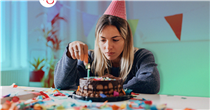 Written by Fiona Cowood
Is the drop in our number of friendships a sign of social maturity or proof that the world is lonelier than ever, asks Fiona Cowood 
Ellie*, 23, says she can't remember much about the final stretch of her engineering degree. The Covid pandemic hit towards the end of her second year, so she saw out the last 15 months of the course from her childhood bedroom, watched over by cuddly toys crammed onto a floating shelf above her desk.
After graduating, she was selected for a graduate trainee scheme in September 2021, where the onboarding process was handled remotely. Ellie finally cleared out the cuddly toys, but on her first day, she was back at the same old desk, this time in a crisp white shirt facing her new company laptop. 
In between video calls with IT and new colleagues, she tried to get to know her fellow cohort of first-jobbers via virtual meet-ups and Teams chats. But it was hard going.
"It just felt lame," says Ellie. "Before Covid, I was part of this huge group of mates at uni. We were always out and between studying and working part-time in a restaurant, I never had much time to myself. Now, apart from my job, that's all I have. It's lonely."
Ellie is part of a generation that can't seem to shift the chronic loneliness that descended with the pandemic, and is now calcifying around them. A landmark global report out this month by non-profit Sapiens Labs confirmed what many experts in the field have long suspected: our collective mental health shows "no recovery following the substantial two-year decline associated with the Covid-19 pandemic". In other words, we feel as lonely and unconnected today as we did when we were first told to 'stay at home' three years ago.
The report pinpoints our 'social self' as the thing which has seen the sharpest decline, concluding that it's our friendships, connections and relationships that have really suffered – and that younger people have lost the most.
"Our group of housemates has completely drifted. We still meet up for birthdays but it's not the same; I actually dropped out of the last one because I just didn't have the energy. I have one uni friend I'm close with and a couple of old friends from my teens, but I'd say my social life is a third of what it once was. I'm in a busy, gossipy WhatsApp group with some colleagues but we rarely meet up. I guess this just isn't how I thought my 20s would be."
This chimes with Robin Hewings's work at the Campaign to End Loneliness. He's been surprised by the extent to which people's relationships and friendships haven't bounced back since the pandemic. "The data shows that there is a good number of people for whom loneliness has become their new normal – the damage done to their relationships just has not got any better."
Loneliness is often caused by change, adds Hewings, which helps explain why people in their 20s are suffering more than older people. Leaving university, living away from home, starting new relationships, getting first jobs and promotions – these are all 'firsts' that have been played out in new, less sociable ways.
Many experts and commentators predicted that a so-called 'friendship recession' would inevitably follow the pandemic, and research by LifeSearch finds the average 18-34-year-old has lost 4.5 friendships since Covid, rising to 5.4 in London. But for Paris Collingbourne, 27, this 'friendship pruning' has only been a positive.
"I used to be busy all the time. I had plans most evenings, whether that was a gym class or catching up with a friend and would spend my weekends going on nights out. I'd get serious FOMO and would rarely decline an invite," says Paris, who lives in south Wales and works in PR. "The pandemic and time out from my 'normal habits' made me realise a lot. I used to feel pressure to commit to plans at my own expense, and I would worry about letting people down. Now, I have fewer than five close friends in my circle, all of whom are from a different part of my life. I love the fact I can now invest my time and energy into them and be a better friend."
Chantae Vetrice, a musician from New York, feels the same. Chantae left the city to see out the pandemic in Vermont, a move that gave her the space to analyse her friendships. She came back to New York with a completely different outlook: "I became very very particular about the relationships I felt were worth maintaining. Unfortunately, I lost some friendships but for me, it's about protecting my energy. The pandemic was a test, and not every friendship made it. My circle is smaller now, but it's better."
Psychologist Dr Sandra Wheatley believes the pandemic has done something interesting to our 'social maturity', and Paris and Chantae have simply skipped ahead. "It's been a catalyst," she explains. "Your 20s and 30s are usually your expansionist years of acquiring friends and acquaintances. Usually, it's not until later that you reflect on who you genuinely want to keep in touch with. But the pandemic made that stage come more quickly. People are pruning earlier."
What can be done if, like Ellie, you've been left feeling that your friendships were slashed and burned too soon? "Chronic loneliness can be hard to get out of," says Hewings. "You tend to think about your interactions more negatively: you see more threats, the world seems scarier and the idea of going to a new social environment can feel overwhelming. Afterwards, you might overthink, brood or question what people said to you. The first thing to do is be aware that these thoughts and feelings are normal among lonely people. Also, be aware that social media doesn't just reinforce loneliness, it can multiply it – a social media feed of lots of happy smiling people doing lovely things together will often not help you."
Instead, Hewings suggests volunteering as a way to initiate more IRL connections and possible friendships. "When you're useful to others, it makes you feel much more connected, so see if there are things happening locally you could join in with. Try to get some courage to contact an old friend you haven't seen in a while – the reality is that people like us more than we often think they do. And lastly, remember that while loneliness isn't easy to move on from, in general, people do not stay chronically lonely forever. Things happen that lift people up."
* Name has been changed
Images: Getty

Source: Read Full Article