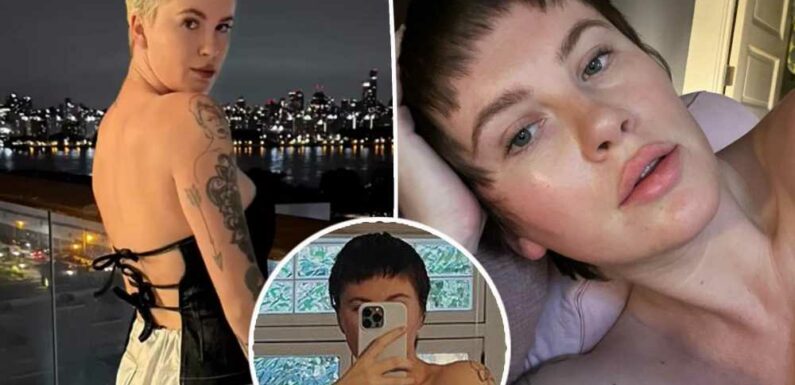 More On:
ireland baldwin
Ireland Baldwin details mental, physical 'warfare' of pregnancy: 'This s–t is hard'
Pregnant Ireland Baldwin pokes fun at 'nonexistent' baby bump
Pregnant Ireland Baldwin hints at baby's sex, compares bump to 'sub sandwiches'
Alec Baldwin's kids prepare to become aunts, uncles amid Ireland's pregnancy
Ireland Baldwin isn't changing her ways just because she's pregnant.
The queen of the racy Instagram selfie took to social media Monday night to share a series of photos showing off her baby bump.
"reposting the pg-13 selects because y'all love to report me 🤘🏼," Baldwin, 27, captioned the carousel post.
One of the snaps showed the model posing in nothing but a pair of unbuttoned black trousers as she used her arm to cover her topless chest.
In another photo on her Instagram Story, she wore a sheer red dress and strategically placed emojis over her body to cover her private areas.
Baldwin told her followers that the post initially had been taken down for violating the platform's community guidelines.
"The people reporting me can suck my a**," she wrote on her Story over a screenshot stating that she had broken "adult sexual solicitation guidelines."
The DJ announced on New Year's Eve that she is expecting her first child with her musician boyfriend, RAC.
She since has kept fans updated on her pregnancy journey, speaking candidly last week about the various mental and physical challenges.
"I underestimated just how hard pregnancy would be on my mind and my body," she wrote, identifying herself as someone who already "deals with extreme health anxiety on a daily basis."
Baldwin noted that she has "struggled to adapt" to all the new "bodily sensations," including "pains and aches" and "organs going to s–t randomly."
Along with the "physical aspects" of pregnancy, the eldest daughter of Alec Baldwin and his ex-wife, Kim Basinger, said she feels like her "brain and thoughts are going to war every single day," describing the sensation as "mental warfare."
"'Just wait till the baby gets here, you won't be getting any sleep,'" she mimicked being told. "Bitch, I don't sleep now. SHUT UP. I'm exhausted. I'm unmotivated. I feel like life is passing by and my career hasn't even begun."
Ireland also gave a shout-out to RAC, whose real name is André Allen Anjos. The couple have been dating for about a year.
"He's everything and more to me," she gushed. "It's hard not being really close to family to begin with because they live far or are idiots that I want nothing to do with. It's hard seeing other people go through this and have their parents close by."
Earlier this month, the actress revealed she is having a baby girl.
Ireland's stepmother, Hilaria Baldwin — who is a mom to seven children under the age of 10 with Alec — has said she "can't wait to meet the little babe."
Share this article:
Source: Read Full Article