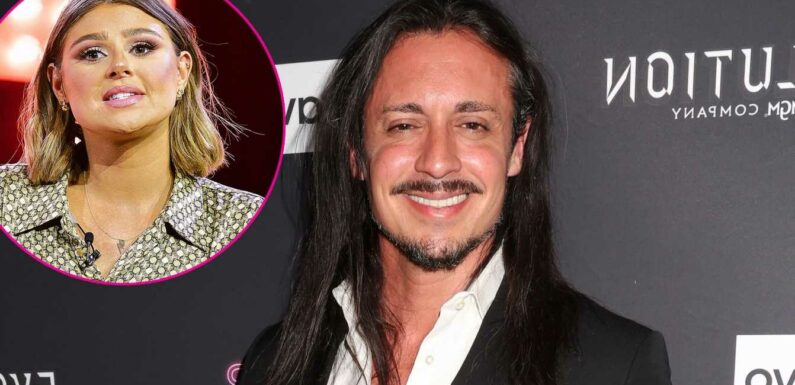 Not having it! Peter Madrigal reacted after Raquel Leviss called him "a great starting pony" — and he wasn't happy about it.
Everything to Know About Tom Sandoval, Raquel Leviss' Affair, Ariana Split
"I have to say something," the SUR manager, 38, said during the Thursday, March 9, episode of the "Alison Rosen Is Your New Best Friend" podcast. "Because I kind of am directly indirectly involved in this, because I did go on some dates with [Raquel]. And now I'm just like, 'OK, the starter pony's gonna speak up.'"
The Vanderpump Rules star was referring to the March 1 episode of Watch What Happens Live With Andy Cohen, where Leviss, 28, discussed her summer 2022 fling with Madrigal. During a game of "Do! You! Regret It!?" with host Andy Cohen, the former pageant queen said she has no remorse about saying yes to a date with Madrigal where she ended up in tears.
"I feel like Peter's, like, a great starting pony to get back into the dating world," Leviss said as Cohen, 54, covered his face with his notecards. "He was such a great shoulder to cry on."
The episode was taped before Us Weekly confirmed on March 3 that Tom Sandoval and Ariana Madix split after Sandoval, 39, was caught cheating with Leviss — and Madrigal now seems to think hindsight is 20/20.
Schwartz! Peter! Everything Raquel Has Said About Dating After James Split
"I'm nobody's starter pony," the Daddy's Home director said on Thursday. "Go f–k yourself. I always keep an even keel, but my God. Who the hell do you think you are? Who the f–k do you think you are?"
Last year, Leviss told Us that she'd gone on "a few dates" with Madrigal following her split from ex-fiancé James Kennedy. The California native and the DJ, 31, called it quits in December 2021 after five years together.
In order to view the video, please allow Manage Cookies
"He asked me out after my breakup, obviously, and I was like, 'Well, why not? Right?' I'm a yes-man now," the SURver said in July 2022. "I think it was more so just saying yes to him asking me out and just trying that whole thing out."
One month later, however, Us confirmed that Leviss hooked up with Tom Schwartz at Scheana Shay's wedding to Brock Davies. The TomTom co-owner, 40, was previously married to Pump Rules star Katie Maloney.
Leviss and Schwartz later maintained that they're just friends, but Maloney, 36, has since slammed Shay, 37, for encouraging the duo to hook up.
As fans now know, however, Leviss at some point began an affair with Sandoval, who had been dating Madix, also 37, since 2014. Madrigal noted that he couldn't say much about the timeline since Bravo cameras are rolling again, but he suspected something was up when he noticed how much time Leviss and Sandoval were spending together.
Scheana and Raquel's Fight Over Scandoval: What to Know, Costars' Reactions
"They were hanging out quite a bit without Ariana around," he claimed on the podcast. "Let's put it that way. In the back of my head, I'm like, 'This is weird, but OK, maybe Tom's just trying to show her the ropes or something like that.'"
Madrigal added that he first asked Leviss out in March 2022, and the pair went on two dates before filming for Pump Rules season 10 started. On one of the dates, the Sonoma State University graduate cried on his shoulder — months before the filmed dinner where she broke down on camera.
Shortly after that date, Lisa Vanderpump advised Madrigal not to keep dating Leviss because he was technically her boss, while Leviss independently realized she wasn't interested in moving forward with a relationship. During a conversation that played out during a February episode of Pump Rules, the duo decided to keep things platonic.
"I'm very team Ariana," Madrigal continued. "And I've been friends with Tom [Sandoval] forever, but man, this is beyond f–ked up."
Madix has yet to speak out publicly about the situation, but both Sandoval and Madix have issued public apologies for their actions.
"I want to first and foremost apologize to everyone I've hurt through this process. Most of all, I want to apologize to Ariana," Sandoval wrote via Instagram on Tuesday, March 7, after issuing a statement days earlier that didn't mention his Fancy AF Cocktails coauthor. "I made mistakes, I was selfish and made reckless decisions that hurt somebody I love. No one deserves to feel that pain so traumatically and publicly."
Sign up for Us Weekly's free, daily newsletter and never miss breaking news or exclusive stories about your favorite celebrities, TV shows and more!
Leviss, meanwhile, said that she is "taking steps" to "make healthier choices" after the affair. "There is no excuse, I am not a victim and I must own my actions and I deeply regret hurting Ariana," she wrote via Instagram on Wednesday, March 8. "I have sought emotional validation through intimate connections that are not healthy without regard for my own well-being, sometimes negatively affecting others and often prioritizing the intimate connection over my friendships."
For access to all our exclusive celebrity videos and interviews – Subscribe on YouTube!
Source: Read Full Article