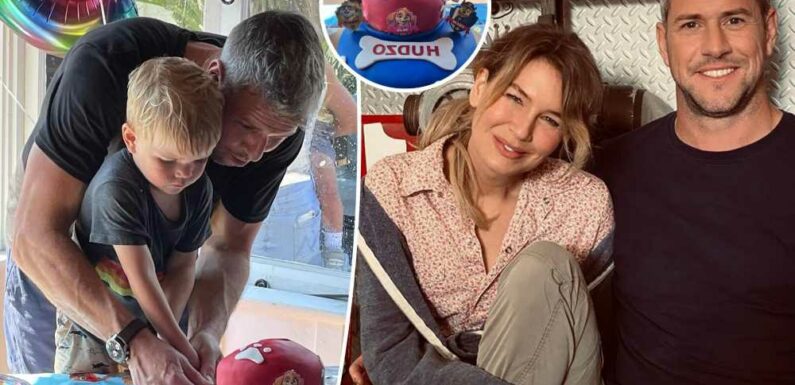 More On:
renée zellweger
Anne Heche regretted losing role in this Oscar-nominated Tom Cruise movie
Renée Zellweger slams 'garbage' anti-aging products: 'I couldn't wait to turn 50'
Ant Anstead shares cuddly pic with 'pure class' girlfriend Renée Zellweger
Renée Zellweger recalls the 'serendipity' of meeting boyfriend Ant Anstead
Renée Zellweger played a big part in her boyfriend Ant Anstead's son Hudson's 3rd birthday party.
When an Instagram user asked Anstead, 43, where Zellweger, 53, was when he posted party photos on Saturday, the former "Wheeler Dealers" host clarified that his girlfriend was not only in attendance but "helped plan the whole" event.
"Two lucky boys!" he added.
Anstead went on to tell his followers that his youngest child had "the best time" at the bash and "laughed so hard."
"I'm going to be finding confetti and glitter for the next few months," he wrote. "Totally worth it! … I love how kids just rip up the plans and get creative finding new ways to have fun!
"This party ended with the (drinks) ice buckets being used for dunking! Water balloons and a full on water fight!"

The 3-year-old had the "best time."
ant_anstead/Instagram

The 3-year-old had the "best time."
ant_anstead/Instagram

The 3-year-old had the "best time."
ant_anstead/Instagram

The 3-year-old had the "best time."
ant_anstead/Instagram

The 3-year-old had the "best time."
ant_anstead/Instagram
Dolores Catania: Teresa Giudice and Gorgas' feud is at 'high stage of bad'
View Slideshow
Source: Read Full Article