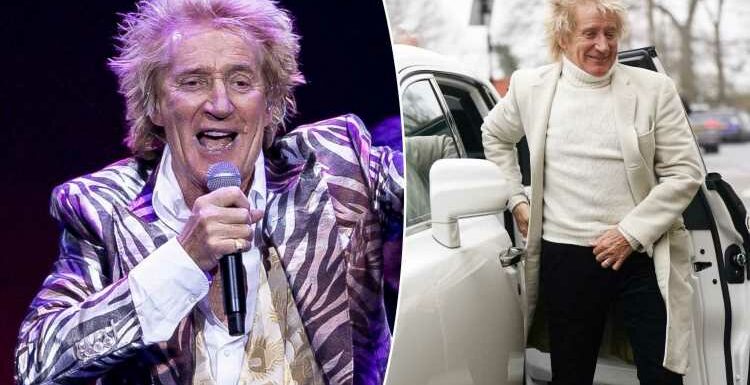 More On:
rod stewart
Rod Stewart poses for rare family photos at daughter Ruby's baby shower
Rod Stewart's son Sean marries girlfriend Jody Weintraub in Las Vegas
Kimberly Stewart, Benicio del Toro pose for rare photo with daughter Delilah
Rod Stewart's son Aiden, 11, rushed to hospital after collapsing during soccer match
Rod Stewart has revealed that he canceled his concert with Cyndi Lauper and Jon Stevens in Australia due to a "viral infection."
"Hello my friends," the British rock star said in a statement on Instagram Saturday. "I'm absolutely downhearted that I'm disappointing my fans who bought tickets to A Day On The Green."
"Late this morning I was advised that I have a viral infection and my throat was too irritated to sing," Stewart, 78, added. "I'm only human and sometimes get sick just like you do.
"My greatest joy is performing for you, so I'm doing everything I can to get on the mend and back on stage!"
Stewart's Instagram comments were flooded with well-wishes from fans across the globe.
https://www.instagram.com/p/Cp7XzziNTVN/
"🎶You're in our hearts, you're in ours souls 🎶 Get well soon! Bless you. ❤️," wrote one fan
"Speedy recovery, dear Rod, wishing you an excellent health, please take care 🙌," added another.
"Take it easy Rod! We totally understand! We all want you to be well and at your best very soon xxx," commented a third support
"Feel better Rod. Your [sic] amazing. Don't seat [sic] the small stuff. You first!" wrote a fourth fan.
A day prior, an announcement about the cancellation was made by the "You're in My Heart" singer via his Twitter account.
For more Page Six you love …
Listen to our weekly "We Hear" podcast
Subscribe to our daily newsletter
Shop our exclusive merch
However, at the time, he did not disclose which artist was ill or how the illness would affect their upcoming shows.
"Live Nation and Roundhouse Entertainment regret to announce that tonight's performance by Rod Stewart, Cyndi Lauper and Jon Stevens at Mt. Duneed Estate, Geelong will not go ahead due to illness," Stewart's official Twitter page tweeted Friday night.
"We apologise for the disappointment and inconvenience to ticket holders," the statement added.
"A further announcement regarding the concert arrangements will be made early next week."
Page Six has reached out to Stewart's reps but did not immediately hear back.
Share this article:
Source: Read Full Article