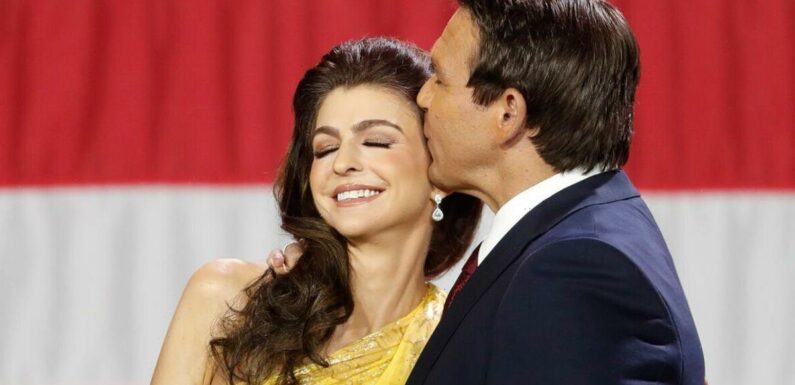 We use your sign-up to provide content in ways you've consented to and to improve our understanding of you. This may include adverts from us and 3rd parties based on our understanding. You can unsubscribe at any time. More info
Casey DeSantis is the wife of Ron DeSantis and the First Lady of Florida. The glamorous mother-of-three is often at the governor's side, but what do we know about the woman who may one day be First Lady of the United States?
Casey was born on June 26, 1980, making her 42 years old. She was named Jill Casey Black in Troy, Ohio, and now goes by her middle moniker.
Casey had a very successful career before she was best known for being Ron DeSantis' wife. She graduated from the College of Charleston with a Bachelor of Science in economics, minoring in French.
The College of Charleston is a public university in South Carolina. Notable alumni include One Tree Hill actor Allison Munn and Academy Award winner for special effects Nafees Bin Zafar, Principal Engineer at DreamWorks Animation who worked on the Pirates of the Caribbean and Shrek franchises.
Casey went on to work as a news broadcaster and anchor, hosting Golf Channel programs in Jacksonville, Florida, and sometimes reporting for CNN.
View this post on Instagram

A post shared by Casey DeSantis (@caseydesantis)
She met DeSantis when he was working as a naval officer, locking eyes on a golf course. Casey described their first encounter to First Coast News.
She said: "We met at the University of North Florida at the driving range off Kernan. I kept looking over my shoulder because I wanted the bucket of balls that somebody had left because my swing was so terrible. I needed as much practice as I could possibly get.
"As I'm looking over behind me, Ron is over there. He thinks I'm looking at him. I was really looking at the balls. Long story short we started to talk and that's how we met."
The couple married in 2009 at Disneyworld and have three children, Mason, Madison, and Mamie.
DON'T MISS
US to send Abrams tanks to Ukraine in U-turn [RUSSIA]
It would be 'extraordinary' if Prince Andrew overturned Giuffre settlement [EXPERT]
Four arrested after university student, 19, 'raped then dumped' [CRIME]
At 38, Casey because the youngest woman to hold the role of First Lady of Florida when her husband became the 46th governor in January 2018, succeeding Rick Scott.
In the role, she has created the Resiliency Florida initiative with athletes like Tom Brady and David Beckham, with the aim address mental health stigma.
Casey uses her Instagram account @caseydesantis to support her husband and promote her work as First Lady of Florida. She regularly posts behind-the-scenes snaps from her work and her family life, as well as proud snaps of DeSantis and their three children. She has posted throwback snaps from the couple's wedding, fun holiday pictures, and candid selfies.
View this post on Instagram

A post shared by Casey DeSantis (@caseydesantis)
What is Casey Desantis' age?
Casey is 42 years old. She was born on June 26, 1980, making her star sign Cancer. She is almost two years younger than her husband, who was born on 14 September 1978 in Jacksonville, Florida.
Who are Casey Desantis' parents?
Little is known about Casey's parents. She doesn't seem to have posted any tributes to them on her Instagram page and hasn't revealed their identity publically. Ron Desantis, on the other hand, was born to Ronald Daniel DeSantis and Karen Rogers. He is of Italian descent, with all his grandparents having been born in Italy.
What is Casey Desantis' net worth?
The former broadcaster's net worth is not a matter of public record, but estimates have been made online guessing at anywhere between $1million and $3million.
Source: Read Full Article