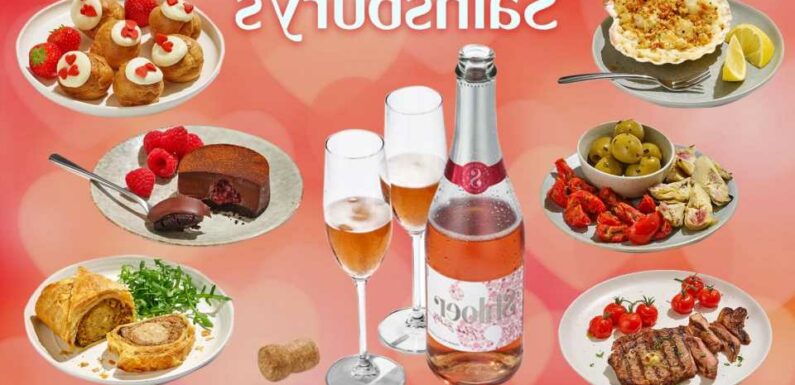 SAINSBURY'S is to launch a £15 Valentine's Day meal deal which includes pork belly and a bottle of wine.
Shoppers will be able to choose a starter, main, side, dessert and drink all for under £20.
The romantic meal deal will launch in stores and online on Wednesday, February 8.
And customers will be able to get their hands on the deal up until it ends on Tuesday, February 14.
Starters include a scallop gratin and antipasti platter.
For the main, shoppers can choose from seven options including a sirloin steak, salmon en croute, pork belly and a plant-based Wellington.
Read more in money
Dunelm shoppers rush to buy air fryer that's £85 less than a Ninja
Shoppers rush to buy Tesco gadget that keeps you warm and won't add to bills
There are plenty of sides available such as triple-cooked chips, cauliflower cheese, and potato dauphinoise.
Finish off with white chocolate profiteroles or a lemon tart.
Sainsbury's is also offering a number of alcoholic options to go with your romantic meal, including a bottle of sauvignon blanc or Prosecco.
Those not drinking alcohol can opt for a bottle of Shloer pink fizz or Bottlegreen sparkling presse.
Most read in Money
Aldi is making a huge change to its website – and shoppers will be very unhappy
Martin Lewis issues 'danger' warning over banking mistake – how to avoid it
Sky is giving out set-top box upgrades for free – are you eligible?
Shoppers rush to buy Ninja air fryer dupe that's £110 less from big supermarket
We compared how much one of the meals would cost you now, to see if you will make a saving with the deal next month.
You can currently get the scallop gratin for £3.85, two sirloin steaks with garlic butter for £3.90, triple-cooked chips for £2.75 and two Taste the Difference lemon tarts for £3.35 on Sainsbury's website.
With a bottle of Prosecco, which is currently £10, the total meal would set you back £23.85, but with the £15 meal deal, you'll save £8.85.
Here's a full list of starters on offer and their base price outside of the deal:
Scallop gratin – £3.85
Vegan antipasti platter – £3.50
Antipasti platter – £3.40
Here's all the mains on offer and their base price outside of the deal:
Vegetable tart – £4
Rump steak with butter – £7.50
Sirloin steak with butter – £9
Scottish salmon en croute – £6
Pork belly – £8
Wild garlic chicken kyiv – £5.50
Plant-based Wellington – £6
Here's a full list of all the sides on offer and their base price outside of the deal:
Dauphinoise potatoes – £2.75
Triple cooked chips – £2.75
Cauliflower cheese – £2.75
Mashed potato – £2.25
Green veg medley, rainbow chard – £2.75
Here's all the desserts on offer and their base price outside of the deal:
White chocolate profiteroles – £3.35
Raspberry and choc torte – £3.35
Chocolate melt in the middle – £3.35
Lemon tarts – £3.35
White chocolate and raspberry cheesecake – £3.35
Read More on The Sun
Woman left looking like an egg after botched Botox goes horribly wrong
Love Island winners rich list shows who's made most & there's a clear trend
Here's a full list of all drinks on offer and their base price outside of the deal:
McGuigan Zero Sauvignon Blanc – £4
McGuigan Zero Shiraz – £4
Prosecco Conegliano – £10
Casablanca Chilean Sauvignon – £8
Fronton Negrette Rosé – £7.50
Barrihuelo Rioja Crianza – £8
Pomegranate & Rose Gin & Tonic – £5
Shloer Celebration pink fizz – £3.55
Bottlegreen Sparkling Presse – £4.95
Appletiser – £4.10
Source: Read Full Article