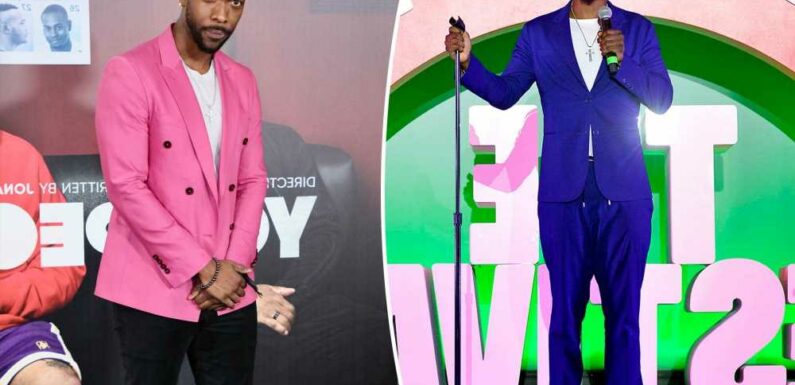 More On:
jay pharoah
Jay Pharoah says Pete Davidson 'confirmed' BDE: 'It's 9 inches'
Jay Pharoah gets emotional talking about Charlie Murphy
Jay Pharoah blasts 'SNL' after being fired
Jay Pharoah tears up after Adele's 'SNL' performance
Jay Pharoah revealed that he's lost 20 pounds since the start of 2023.
The "Saturday Night Live" alum tweeted on Saturday that his "holiday weight [is now] GYONNNNEEEEE."
The comedian, 35, wrote, "I've lost about 20 pounds in the last 3 weeks, totally intentional. … I should teach a class."
When Pharoah's followers asked how he achieved his "next-level" slim-down, he credited a "controlled diet" and "6-8 miles of running on level 12 [on a treadmill], 6 times a week" in his response.
The actor added, "The weight fell off like post [sic] roast meat."
Pharoah, who was an "SNL" cast member from 2010 to 2016, previously lost 25 pounds in 2020 with the help of juice and a home gym.
"I'll indulge, have a nice burger and get some fries, but make sure that I get back on track afterwards," Pharoah said. "That's a timeshare. Enjoy it while we're, here but we're not going to stay here."
The "Bad Hair" star added that he often plays "warrior music" while working out in his home gym.
"You're not going to hear Drake playing all the time," he joked. "No offense, I love Drake's music, but when I come in here, I'm trying to be a warrior."
Share this article:
Source: Read Full Article