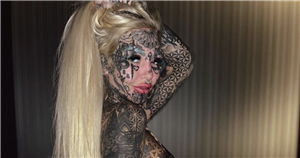 Tattoo model Amber Luke isn't shy about flaunting her tattoos – and her latest post is no exception.
As her intricate inkings cover 98% of her body, she has to remove a lot of clothes to show them off.
So the 27-year-old decided to ditch everything but her leopard print undies, which are so tiny it's a struggle to even see them.
READ MORE: 'We're polyamorous throuples and don't care what people say – three isn't a crowd'
This allowed fans to appreciate Amber's eye-catching body art though.
They love that she's covered from head to toe in ink – from calligraphy on her face to geometric designs on her torso and portraits on her legs.
The sexy snap was taken in The Langham hotel in Gold Coast, Australia.
It garnered more than 2,500 likes on Instagram – and plenty of positive comments too.
One responder gushed: "I love your artwork babe."
Another swooned: "You are the hottest thing in the world. Keep being great and living life."
A third wrote: "I love all your tattoos – looks so good on you."
And a fourth added: "I think I am in love with you or something."
The star battled with her mental health as a teenager but found tattoos to be a great way to express herself.
Previously, she explained: "I struggled immensely with my depression at 16, when I first started my journey.
"I saw it as an opportunity to reclaim my confidence and build myself into someone I'm proud of being."
She now has more than 600 tattoos – including calligraphy on her face and bold eyeball ink.
The influencer also has body modifications like a split tongue and dermals, which are piercings that are placed under the skin.
Amber's alternative looks have landed her modelling photoshoots and opportunities with brands.
They've also helped her to stand-out on adults only subscription site, OnlyFans.
The model is much happier since getting inked – even though some keyboard warriors have cruelly branded her a "freak".
While some aren't keen on her transformation, she refuses to let trolls' comments hold her back.
Previously, she said: "You think that it would hurt me, but I've gotten so so strong over the years of this torment."
READ NEXT:
Tattooed gran strips fully naked to flaunt £25k inkings that cover entire body
'I don't care if my name has gone "extinct" – I still think it's cool'
Woman called 'fat and disgusting' has last laugh by making £45k a month from 55in bum
Whale tail trend is back from the 90s as celebs dare to bare visible thongs
For more lifestyle stories, sign up to the free Hot Topics newsletter here
Source: Read Full Article