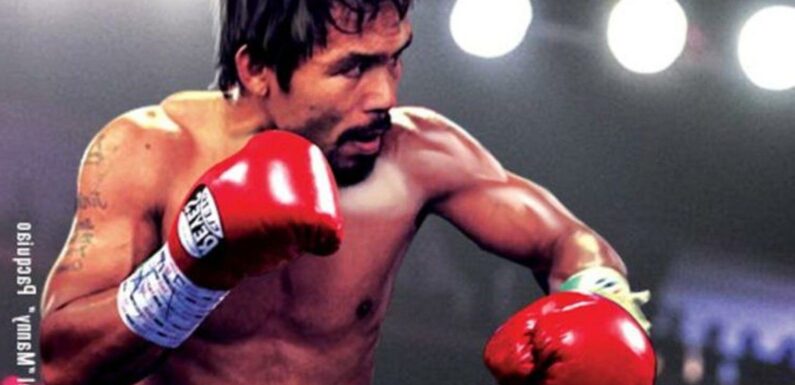 After leaving his family at 14 to the Philippine's economic capital, Manila, Emmanuel Dapidran Pacquiao, also known as Manny Pacquiao wasn't sure of what the future had for him. He toiled the streets for two years, tending to multiple menial jobs before finally falling in love with Boxing. As an amateur, Pacquiao, also called "PacMan" by millions of his fans won 60 of his 64 fights on the streets. He made his professional debut at debut at 16 and the now-retired boxer fought 72 times, winning 62 of those fights. In this article, we will look at ten of the biggest fights of the legendary boxer, who now spends his time as a full-time politician in the Philippines.
10

Manny Pacquiao vs. Rustico Torrecampo – (Figures Not Disclosed)

Before this fight in 1996, Pacquiao had won his first eleven fights, a feat that made the then-young Philippines boxer famous globally. Unfortunately, as fate would have it, he was no match for a 24-year-old Rustico, a stronger and more experienced boxer. Rustico ended Pacquiao's winning streak and retired as a legend himself. Although the fight's earnings are not publicly available, Rustico admitted he made his second-largest career earning from the bout.

RELATED: These Are The 10 Most Valuable Football Leagues In The World
9

Pacquiao vs. Broner ($37 million)

In his 70th professional fight in front of a sold-out MGM Arena in January 2019, Pacquiao retained his WBA title by defeating four-division titleholder, Adrien Broner. After 12 rounds, the judges scored 117-111 and 116-112 twice for Pacquiao. According to its organizers, the fight generated an estimated revenue of $37 million from the 13,025 tickets sold and its pay-per-view earnings. The day's highlight was when Pacquiao told journalists he was ready to fight Floyd Mayweather if he came back into the ring.
8

Pacquiao vs. Thurman ($37.5 Million)

In front of 15,000 spectators at the MGM Garden Arena in Las Vegas, a 40-year-old Pacquiao edged out fellow boxer Thurman in a 12-round fight. After the fight, Pacquiao admitted to the journalist that it was one of his best fights, as his opponent was a powerful competitor. At the end of the 12-round, the three judges' average score was in favor of Pacquiao, who then captured the WBA Welterweight World Championship belt. The fight organizers generated about $37.5 million in pay per-view-revenue in the U.S alone.
7

Manny Pacquiao vs. Jeff Horn ($60 million)

Billed as the Battle of Brisbane, the 2017 duel between Pacquaio and Jeff Horn saw him lose the WBO welterweight championship. The event, which took place in a packed stadium in Australia, saw Horn win his first world title. Having sold out the bout's venue, the organizers generated about $60 million from ticket sales alone. Surprisingly, the loss didn't stop Pacquiao from pocketing a whopping $10 million, while Horn went home with a paltry sum of $500,000.
6

Manny Pacquiao vs. Juan Manuel Márquez IV ($60 million)

In December 2012, Pacquaio and the then WBO junior welterweight champion- Juan Manuel Marquez, went into a duel for the illustrious commemorative WBO Champion of the Decade belt. It was a commercially successful fight, as Ring Magazine named it Fight of the Year and Knockout of the Year. According to reports, the bout generated about $60 million for its organizers, mainly from its 1.15 million pay-per-view buys and ticket sales. Unfortunately, Pacquiao was knocked out in the 6th round and reportedly earned $26 million. Marquez, who won the belt, was compensated with a paltry sum of $6 million.
5

Manny Pacquiao vs. Ugas ($60 million)

In 2021 and his last career fight, Pacquiao failed to defeat Yordenis Ugas in front of a packed T-Mobile Arena in Las Vegas. The loss didn't surprise the fans of the eight-division champ, as Ugas was a tough nut to crack. The 35-year-old Ugas used his physique to overpower Manny Pacquiao, smashing him in 7 of the 12round fight. In his usual way, Pacquiao admitted that he was gracious in defeat, as Ugas retained his WBA Welterweight World title. With tickets around $300, the bout organizers reportedly earned around $60 million in ticket sales alone.
4

Pacquiao vs. Shane Mosley ($80 million)

pacquiao-vs-margarito-fight-2010.blogspot.com[/caption]

In one of his 39 career wins, this fight saw Pacquiao knock out American-born Shane Mosley in front of a packed MGM Grand Paradise in Nevada in 2011. Pacquiao stayed ruthless all through the fight, as his third-round punch on Mosley saw him collapse to the ground. However, the fight continued, much to the crowd's delight, and lasted 12 rounds. Ultimately, all three judges scored in favor of Pacquiao, as he retained his WBO welterweight championship. Pacquiao alone earned a whopping $30 million, while they reportedly generated $80 million in pay-per-view and ticket sales revenue.

RELATED: 10 Ways Andy Murray Spends His $100 Million Fortune
3

Manny Pacquiao vs. Ricky Hatton ($80.2 Million)

Billed The Battle of East and West, the 2009 fight between Pacquiao and English boxer, Ricky, also known as the "Hitman," was met with much fanfare by fans. The fight was commercially successful, attracting 1.75 million pay-per-view buys while generating $80.2 million gross revenue for the organizers. However, much to the disappointment of the spectators, the fight didn't last long. Pacquiao defeated Ricky in the second round via a knockout and became the second boxer to win a world title in six different weight divisions.
2

Manny Pacquiao vs. Miguel Cotto ($82 million)

This would be odd among the 39 career Knockouts boasted by Pacquiao, as it came in the 12th round. However, it didn't take away the excitement of the fight that attracted more than 12,000 spectators, fully packed at the MGM Grand Garden Arena in Las Vegas, Nevada. This victory saw Pacquiao take the WBO World welterweight title and become the first boxer in history to win seven titles. The fight was one of the most watched in 2009, generating in excess of $82 million in both ticket sales and pay-per-view revenue.
1

Pacquiao vs. Floyd Mayweather Jr ($600 million)

The 2015 fight was billed "The fight of the century", and remains the biggest fight of both boxing legends. Unfortunately for Manny Pacquiao, Floyd Mayweather won the fight via a unanimous decision with two judges scoring it 116–112 and the other 118–110. Commercially, the fight generated about $600 million in revenue from sponsorship, ticket sales, and pay-per-view purchases. Alternatively, despite the multiple controversies that ensued around the fight, Pacquiao received around $125 million, with Floyd Mayweather pocketing about $240 million.

READ NEXT: These Are The Richest Female Tennis Players, As Of 2022

Source: BoxRec, Premier Boxing Champions.

Source: Read Full Article