"We are in high alert over here at The Situation household."
Mike "The Situation" Sorrentino and wife Lauren will be kicking off the new year with a new baby girl — one whose due date is just two days before the Season 6 premiere of "Jersey Shore Family Vacation."
The child will be the couple's second — they welcomed son Romeo back in May 2021 — but their first daughter.
"Any minute actually. We're actually due the 24th and we're in the last week, or final term, it could happen any day right now," Mike told TooFab while promoting the new season of his MTV reality show. "We are in high alert over here at The Situation household."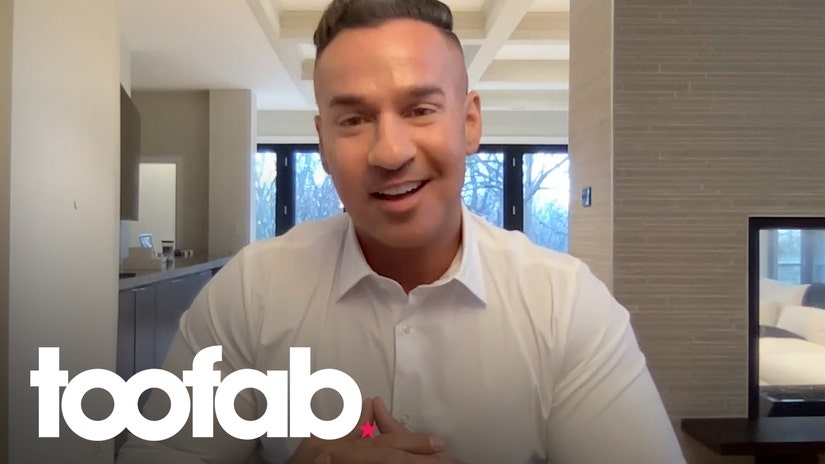 "I'm a little nervous. I definitely am nervous to bring another baby in the world, because I just want to be able to be the best dad I can be and now I'm gonna have two children, which is awesome," he continued. "I'm living my best life, this is what I've always wanted, as an Italian man, to have an Italian family and I have it. But like I said, you are nervous."
Their experience bringing Romeo into the world adds to those nerves, said Sorrentino, after the baby spent two weeks in the NICU after his birth.
"It was a very traumatic time for me and my wife. We stuck together and stayed in faith and everything worked out, but for two weeks, they didn't know what was wrong with him and everything was 9-1-1, it was a really tough time," he explained. "Now we're going back in, any day now, into the hospital with my wife and we are ready to meet our baby girl, but we're ready for anything really, though."
When asked if it felt any different to be welcoming a daughter this time around, Mike admitted, "I'm definitely super nervous."
"I don't know why, but maybe because it's a girl. The boy was definitely easier. But now I have a girl, one and one, the best of both worlds," he continued. "All I can hope for and pray for is a happy, healthy baby girl. But I am nervous, I guess because it's a baby girl. Everyone says I'm going to melt and it's like a totally different type of experience and I'm welcoming that."
Waiting for your permission to load the Instagram Media.
Instagram Media Unavailable
The pair found out they were expecting another child shortly after the loss of their dog Moses — or "Mosey" or "Moser" — back in July 2022. In the Season 6 premiere, Mike makes a comment that "maybe Moser sent us a gift," as they prepare to welcome new life into the family following heartbreak.
"It was super hard. I don't know which moments they caught, but I was literally at my most vulnerable moments this season for sure," he said of the dog's death. "I didn't realize losing our beloved family dog would be so hard. We were really super emotional for quite some time and we tried our best with surgery and chemo and herbal supplements for many months, but when it happened we were not ready for it."
"I don't want to tear up now, but I'm sure I'll be a mess when I watch the premiere. I feel — and I'm a very spiritual guy — I think that Mosey stuck around as long as he could to welcome that new baby, the baby girl we're about to have now," he added. "I think life has meaning and we always film everything because I just want the fans to be able to see our story. I believe our story is very relatable as well."
See Mike and Lauren's story unfold when "Jersey Shore Family Vacation" premieres January 26 on MTV.
Unable to render YouTube Video.
Source:
Read Full Article