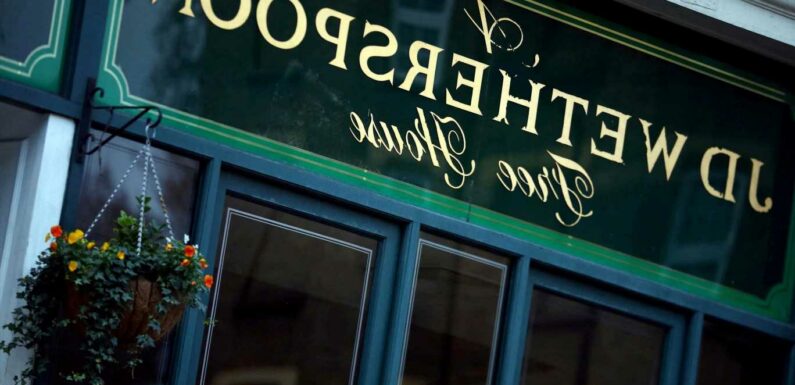 WETHERSPOONS customers are gushing over a deal that lets them tuck into a small English breakfast for just £1.99.
The breakfast must-have normally costs £3.29, although it might be more or less depending on the branch you dine from.
Wetherspoon fans have noticed you can bag a small English breakfast for just £1.99, and a traditional breakfast for £2.99.
They'll usually set you back at least £3.29 and £3.59, respectively.
However, just note that pub prices will likely vary across the country.
The deal comes under a promotion called "Top Plates, Low Rates", which includes reduced prices on the following dishes as well:
read more in Wetherspoons
The Wetherspoons that are closing down across the UK as chain faces huge losses
I work at Wetherspoons & customers can be annoying – especially when ordering
3oz burgers – usually from £5.59 with a soft drink
Pizzas – usually from £5.56 with a soft drink
Boneless chicken basket – usually from £8.49 with a soft drink
Quorn nuggets basket – usually from £3.75
Ham, egg and chips – usually from £5.97
All-day brunch – usually from £6.55 with a soft drink
How much each dish is reduced by will largely depend on your location, although The Sun has asked Wetherspoon for some examples.
It's not clear when the promotion will end either.
But there's a catch – the discount is only available in 112 out of 844 pubs around the UK.
Most read in Money
Most 'expensive home in the world' is in the UK – beating New York and Japan
I tested supermarket pies and the best cost just £1.25 – it's as good as the pub
Big bargain shop chain 'to open' 28 new stores in huge expansion plan
I'm living in a skip – I pay just £50 a month but it's missing key features
To check if this applies to you, you can log into the app, select your nearest pub and check the prices on its menu.
You'll find the app to download for free on the App store or Google Play.
Alternatively, just use the store locator tool on the Wetherspoon website to find your nearest branch.
The Sun has asked Wetherspoon which pubs will receive the discounts and we'll update this article when we know more.
A Wetherspoon spokesperson said: "We aim to offer excellent value to all of our customers at every location, but we do not charge the same prices everywhere.
"This is because the costs of running pubs vary greatly, depending on location."
The news comes after a recent 7.5% price hike throughout the pub chain – adding up to 29p for a pint and 75p on food.
Among the price differences were favourite tipples up by 7%, with a pint of Carlsberg up from £2.39 to £2.57, Stella from £3.35 to £3.60 and Leffe from £3.85 to £4.14.
Popular meal deals have also increased in price.
For example, a large breakfast has risen from £5.90 to £6.34 while a cup of tea or coffee rose from £1.35 to £1.45.
But again, how much menu items have risen by won't be the same in every branch and you should definitely check your local menu to be sure.
The chain hiked prices before in November, plus it hinted at the most recent increases in January.
Pubs have been knocked by rising costs as inflation sends prices soaring and less demand among cash-strapped punters.
Also, the boozer currently has 32 pub chains up for sale – you can see a full list of branches shutting down in our roundup.
The chain currently employs up to 43,000 people and shut half a dozen pubs already in 2022.
Read More on The Sun
Gran bleeds to death in hospital bed with fears killer is stalking wards
Big bargain shop chain 'to open' 28 new stores in huge expansion plan
Wetherspoon revealed it was due to sales still lagging behind pre-pandemic levels.
It came as Spoons boss Tim Martin said far more people now drink in their homes rather than in pubs.
Source: Read Full Article