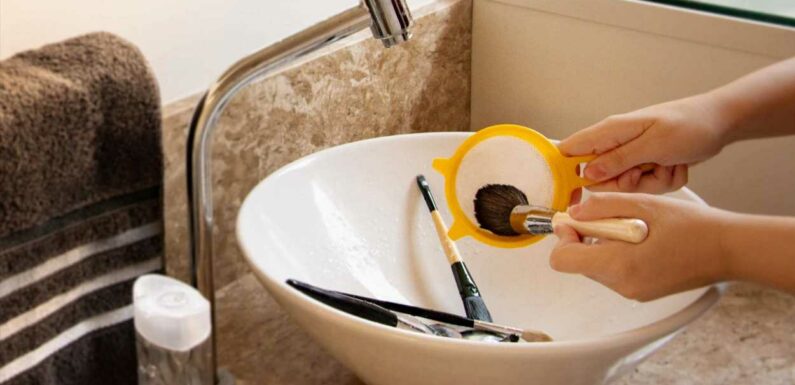 EVERY day we dip and dab with our makeup brushes.
A little bit of pink blush here, a splodge of foundation there, and even a touch of bronzer.
While they might look clean, experts have warned that you might be at risk of infection, as the tools are a 'breeding ground' for bacteria.
Medics at the American Academy of Dermatology said you should be cleaning your brushes every seven to 10 days.
The experts warned: "Dirty makeup brushes can wreak havoc on the skin. In addition to collecting product residue, dirt and oil, makeup brushes are a breeding ground for bacteria.
"This could compromise your complexion — in the form of acne breakouts and rashes — as well as your health.
read more on make-up tools
I'm a microbiologist – there are 6 high street tools that could be making you ill
Beauty fans rave about Primark's £3 fake tan drops claiming the glow is SO good
"Dirty makeup brushes can cause an infection, such as a fungal infection, E. coli, or a staph infection, which can be very serious."
However, they warned that you might have been cleaning them wrong – leaving the harmful bacteria to linger.
The dermatologists said that cleaning them with water alone just won't cut it and could mean that the bacteria is sticking around among the bristles.
First, you should rinse them with lukewarm water in order to remove any residual make-up.
Most read in Health
I caught a nasty cough on holiday… but doctors found something more sinister
BBC star hit by a THIRD cancer battle – after ruptured spleen and blood clot
Looking after our mental wellbeing is vital, and there's support if we need it
Newborn baby girl dies at just 2 months old after hospital blunder
"Only rinse the tip, as submerging the whole brush head will eventually dissolve the glue that connects the brush head to the handle," they said.
In order to make sure the brushes are properly cleaned, they suggest then filling a bowel with lukewarm water and a tablespoon of either gentle shampoo or clarifying shampoo. 
They added that if you've just been using plain soap and water, then this would be reducing the life of your brushes, with the soap and water drying out the bristles.
Next you should swirl each brush tip in the bowl. 
"For a good lather, you can also massage each brush tip in the palm of your hand," they said.
Then, rinse the brush tips under running water and repeat the washing with the shampoo until the water runs clean from each brush.
You also need to make sure to squeeze out the excess moisture with a clean, dry, paper towel.
Lastly, the experts said you might be cleaning them wrong when it comes to storage of your fresh brushes.
"Lay your brushes flat to dry on a towel with the tips hanging off the edge of the counter.
"Do not dry your brushes upright in a container, as this will cause the water to run down the brushes, loosening the glue that connects the brush head with the handle," they said.
Another mistake you might be making is sharing your brushes with other people, as this could raise the risk of infection, they said.
One microbiologist previously warned that the tools in your makeup bag could be making you unwell.
Expert Amy-May Pointer said that hairbrushes, tanning mitts and eyelash curlers could all be harbouring potentially harmful fungus.
She added that trendy items like jade rollers need to be cleaned after each use after Staphylococcus aureus was found on tools the expert tested.
It can be found on skin and strains of S. aureus such as MRSA (methicillin-resistant S. aureus) can pose a health risk. 
There is also evidence of S. aureus's pathogenicity causing acne.
Read More on The Sun
I'm a fashion expert and these 5 styles of trainers make you look frumpy
Martin Roberts breaks down in tears as he announces death of father
Amy-May added: "The hydrophobic surface of a jade roller is not absorbent.
"This makes it one of the least dirty of the cosmetic tools, as the environment would not harbour as much bacterial and fungal organisms as a sponge or brush for example," she said.
Source: Read Full Article