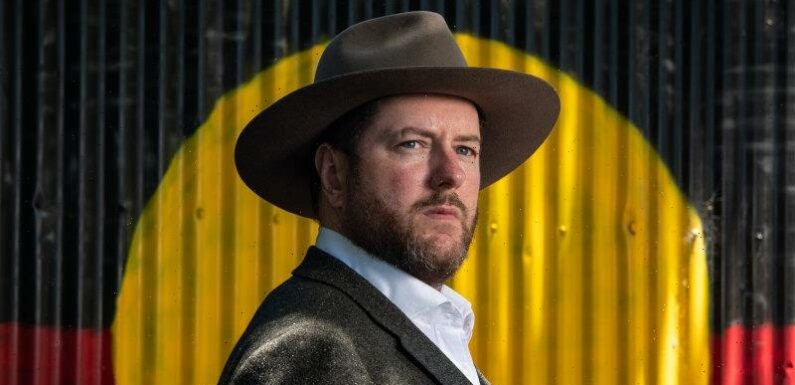 Victoria's democratically elected First Nations representatives hope Premier Daniel Andrews will listen to 50,000 people who want Maroondah Hospital to retain its Aboriginal name, after the government announced it would rename the facility in Melbourne's east in honour of the Queen.
Andrews' decision — announced last month as part of a $1 billion rebuild — attracted a flurry of complaints from Indigenous leaders and prompted a petition calling on the government to retain the name Maroondah, a Woiwurrung word that means "throwing leaves".
Marcus Stewart, of the First Peoples' Assembly, has criticised the decision to rename Maroondah Hospital after the Queen.Credit:Justin McManus
Marcus Stewart, co-chair of the First Peoples' Assembly, and a Nira illim bulluk man, delivered the petition with 53,000 names to the premier's office on Thursday.
"We've lost enough of our culture, our history and our people thanks to colonialism. It would be a real misstep to erase an Aboriginal name to make room for the very symbol of colonialism," Stewart said.
"Celebrating our languages and using our words is a way to help keep our culture alive and thriving here in Victoria where it's been practiced for countless generations. Anyone who loves living in Victoria would surely want to deepen their connections to this land and our incredible history."
Stewart said he hoped Andrews was willing to listen. "But perhaps having public opinion so firmly in our corner will also help nudge a rethink on this one," he said.
Andrews pledged $1 billion to rebuild the hospital, in Ringwood East, last month, shortly after the monarch's death, and declared it would be renamed the Queen Elizabeth II Hospital. The opposition announced a $400 million revamp for the same hospital a day earlier.
After angering the community over the decision to rename the facility, Andrews dug in and insisted the First Peoples' Assembly should focus on the path to treaty instead of criticising him.
"They're elected to negotiate treaties," Andrews said at the time. "That's what they need to do. That's what they're elected to do and we're delivering that treaty. And I wouldn't want anyone to lose sight of that factor."
Andrews defended his decision by describing the Queen as a longstanding supporter and "a patron of hospitals here in Victoria".
Maroondah Hospital is to be renamed after Queen Elizabeth II.Credit:Eddie Jim
He said the facility did not need to retain the Aboriginal word because the local government area and nearby highway were named Maroondah.
Andrews on Thursday remained committed to renaming the hospital.
"The people of Melbourne's east deserve something special," he said.
"We're building a brand new hospital, and it needs a brand new name. And that's what we're giving them."
The First Peoples' Assembly is the elected body to represent traditional owners and Aboriginal and Torres Strait Islanders in Victoria, and is independent of the state government.
Stewart, who said speaking up was part of treaty, said the premier's decision would not derail that process.
"We've had plenty of disagreements along the way, but you need to keep your eye on the bigger picture and we're making very good progress towards treaty," he said.
"We're on the verge of an agreement that will mean our collective voice can't be ignored by politicians. We want treaty to put First Peoples in the driver's seat when it comes to the decisions that affect our communities, our culture and our country."
The Victorian Aboriginal Community Controlled Health Organisation, the Closing the Gap Partnership Forum, Victorian Aboriginal Legal Service and the Greens have also slammed the hospital name change.
The Morning Edition newsletter is our guide to the day's most important and interesting stories, analysis and insights. Sign up here.
Most Viewed in Politics
From our partners
Source: Read Full Article