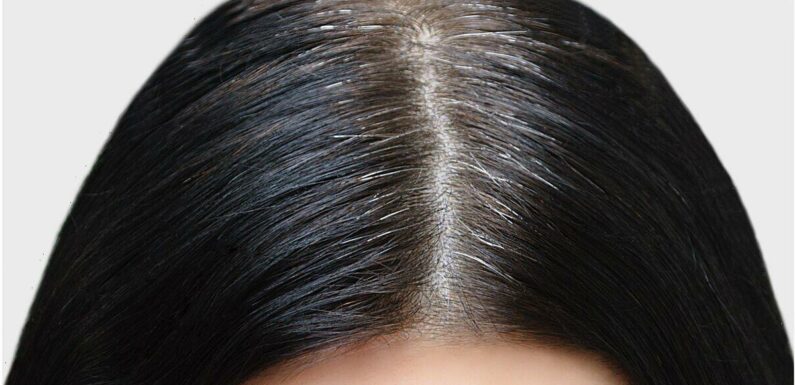 We use your sign-up to provide content in ways you've consented to and to improve our understanding of you. This may include adverts from us and 3rd parties based on our understanding. You can unsubscribe at any time. More info
A cheap product is being lauded as an easy and effective hair hack to cover grey hairs in between visits to the hairdresser.
Simone Lyn is a British content creator who shares "easy makeup tips" on her TikTok account. She showed users of the social media app how she covers her grey hairs, after battling them for 20 years.
She used a spray to cover up the roots, leaving no trace of the grey hue. Explained her "grey hair hack" the beauty fan said: "Spray roots and clean up your part so it looks more natural! Spray and use a q-tip to clean up the scalp."
Simone is not the only woman to swear by the product, demonstrating how well it works online. So did a US makeup artist. The content creator @gmartistry said: "So, I have this L'Oreal magic root coverup."
She demonstrated how she uses the product, putting it into her air with a makeup brush. She said: "I'm always scared to spray it because I've got it on my face.
"I get a little makeup brush and then I get the spray and I spray it there and then go ahead and dab. As you can see it's covering it up. It's super quick and mess-free, which I love."
She added as a warning: "Use a brush that you don't care about."
Both women use the L'Oréal Paris Magic Retouch Temporary Instant Root Concealer Spray, which is currently £4.50 on LookFantastic.
It comes in six different shades, from the lightest, light golden blonde, to the darkest, dark brown. Of 40 reviews on the LookFantastic website, the product has a 4.23 star rating, with 26 five star reviews.
One customer wrote that the project "works well for adding depth and volume as well as covering up greys in between salon visits."
DON'T MISS
'I'm a hairstylist – here are my secret bargains for thicker hair' [COLUMN]
Hairdresser shares the 'it' haircut for 2023 will 'highlight eyes' [EXPERT]
How long you should wash your hair to eliminate greasy locks [INSIGHT]
A hairdresser recently explained the best way to colour grey hair to Express.co.uk recently. Vicki-Anne Hoskin is the recent winner of E4's The Big Blow Out.
Vicki explained the best type of dye to use, as well as a low-maintenance option and one huge mistake to avoid. The stylist explained: "The best way to colour grey hair is by using a permanent colour, these will cover greys up to 100 percent.
"A semi-permanent colour will only mask the greys for a couple of weeks, so always go for a permanent colour to give more coverage and make sure those pesky greys are gone."
How to reduce the appearance of grey hairs
If you are looking for a colour to cover your grey hair in 2023, hairdresser Adam Reed suggested a bold shade. He told Express.co.uk: "Red is in."
Various shades are red will be crowning fashion-forward Britons this year, he claimed.
Adam said: "I'm loving copper. I've always loved copper, I'm obsessed with it.
"I'm so happy to see people coming in to ask for copper hair, and we're now seeing everything from cooler-based coppers to really bright vibrant fake coppers.
"This trend really works for everyone as there are so many variations of the colour, that's one of the reasons I love it so much!"
Source: Read Full Article