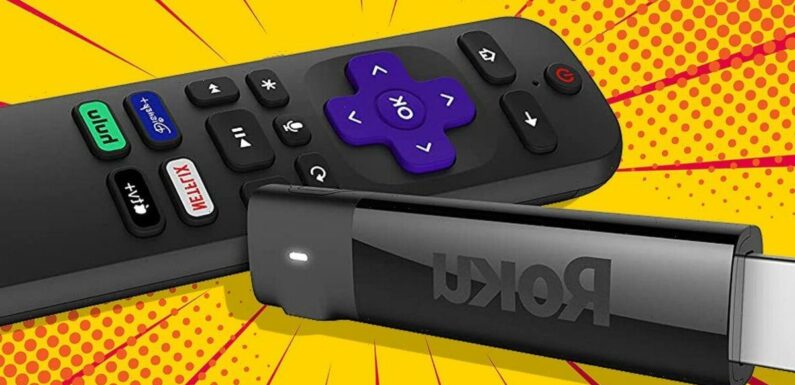 We use your sign-up to provide content in ways you've consented to and to improve our understanding of you. This may include adverts from us and 3rd parties based on our understanding. You can unsubscribe at any time. More info
Fire TV Stick users may be tempted to switch to the Roku equivalent when they spot that Argos is selling the TV-watching gadget for its "lowest ever price". If you have been thinking about purchasing a Roku Stick to stream your favourite films at the click of a button, Argos may have just the deal for you.
At just £39.99 for the Roku Stick 4K HDR Streaming Stick Media Player, the retailer has never flogged it for cheaper.
This will let you stream your favourite series or film in an instant. You will have access to a huge selection of free, live, and paid channels.
For instance, catch all your favourite shows from all the big names, from BBC iPlayer, All 4, Netflix and Amazon Prime Video to YouTube and Apple TV+.
Of course, Disney+. Is also available, as is Vimeo. You can also rent movies with the exciting gadget.
Roku is also giving users, both existing and new, the chance to enjoy three months of Apple TV+ completely free, just in time for the Ted Lasso premier.
Ted Lasso: Jason Sudeikis stars in season three trailer
You can simply add the Apple TV channel to your Roku streaming stick to access it.
But make sure you don't miss out, as this offer will only be available until Thursday May 27.
But unlike Amazon's Fire TV Stick, you will also be able to enjoy free Emmy-nominated Roku Originals on The Roku Channel too.
And you can search across thousands of channels with the sound of your own voice.
The device also comes with an HDMI port and it can connect to Wi-Fi.
If this sounds appealing to you, you may want to hurry as Argos says the product is "selling fast".
Argos' deal is also a whole £10 cheaper than the £49.99 offer on Roku's website.
SEE ARGOS' DEAL HERE
Roku Stick 4K HDR Streaming Stick – £39.99
The same goes for Curry's, which is also selling the TV-watching device from £39.99
SEE THE CURRY'S DEAL HERE.
Roku Stick 4K HDR Streaming Stick – £39.99
However, while Argos has never sold the device for less, you can get your hands on it from Amazon's online marketplace for an even more affordable £29 thanks to a deal slashing 23 percent off the bill.
SEE AMAZON'S DEAL HERE
Roku Stick 4K HDR Streaming Stick – £29
And if you want to go the extra mile and want a streaming gadget that doubles up as a speaker, you could check out Roku's Streambar.
While this will set you back £129.99, it comes with some stunning features. The Streambar upgrades any TV's audio thanks to cinematic sound and Dolby Audio.
It also acts functions as a Bluetooth speaker with owners able to send playlists to it via their phones or tablets.
Other features include crisp, clear dialogue for movie watching. It also turns down the volume of those annoying adverts when you are waiting for your favourite show to come back on.
Still not convinced by Roku? You can buy Amazon's Fire TV Stick with Alexa Voice Remote, including TV controls, for £44 from Amazon's website.
The slightly cheaper Amazon Fire TV Stick Lite With Alexa Voice Remote can be picked up for £34.99 from Amazon.
Source: Read Full Article