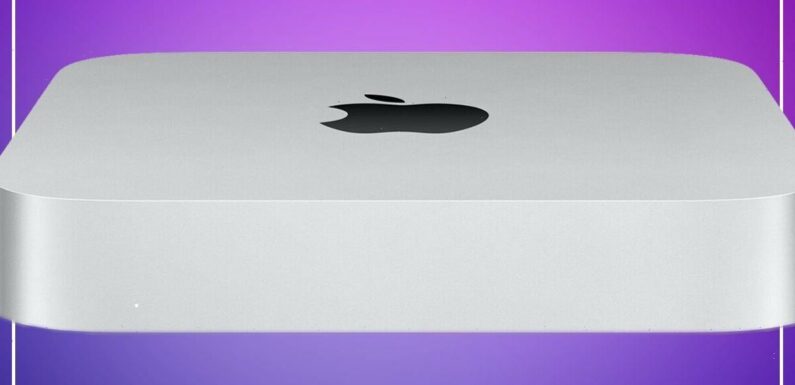 There's no question that Apple's rebooted Mac mini is now pretty mighty
What we love
£649 price offers great value
M2 processor is supremely capable
Premium build quality
Great way to own a new Mac
What we don't
No big design refresh
Needs a USB-C port on the front
No keyboard or mouse included
The new Mac mini M2 offers phenomenal value for money without comprising on performance. Thanks to Apple's latest M2 silicon tucked under the aluminium chassis there really isn't much this desktop PC can't handle.
We've been editing videos, retouching images and ploughing through work without the hint of a stutter and things never seem to slow no matter how many applications you need to have running. Apple is promising a 50 percent speed boost over its older Intel-powered desktops and there's no question that the Mac mini is now pretty mighty.
Thanks to the M2 it's also more efficient and throughout our testing, there's been no whirl of a fan and it never appears to get hot under collar. And you get all this grunt and supreme performance for under £650. Well, kind of…
The Mac mini doesn't ship with any accessories so if you don't have a keyboard, mouse or monitor your bill will start to expand. If you want extra internal storage or upgrade to the even more powerful M2 Pro chip inside then the mini can get pretty expensive. Add every upgrade and you'll face a bill of over £4,000!
That said, the entry-level machine really is excellent and only power users need to consider spending more.
We've enjoyed our time with the Mac mini but there are some niggles including the design which, once again, hasn't had a hint of a refresh. It still looks swish and stylish but a smaller form factor or extra colours would have been nice. Unlike the more expensive Mac Studio, there's also no USB port on the front which is highly annoying.
Despite these small gripes, if you own already own a screen and want a Mac on a budget, the £649 M2 mini is mighty and definitely a device to consider.
JUMP TO…
The new M2 processor
Design
macOS Ventura
Price
Mac mini M2: Final Verdict
Apple's Mac mini is back and despite its very familiar appearance, this desktop PC gets a pretty epic boost. The M2 processor now comes as standard and that means users get some colossal performance gains with some tasks now 50 percent faster than before.
To make things more enticing, Apple has dropped the starting price by £50 making it cheaper than its M1-powered predecessor.
It all sounds very enticing but should you invest? Expres.co.uk has been testing out this new desktop PC and here is our full Mac mini M2 review.
The new M2 processor
Apple's own-brand silicon has been setting new performance standards since it was first introduced back in 2020 but things are being taken up another notch thanks to the latest M2 brain. This chipset now comes tucked under the hood of the new Mac mini and it makes this compact desktop PC feel extremely capable.
Our tests were all performed using the entry-level M2 model which features an 8-core CPU with four high-performance and four high-efficiency cores, along with a 10-core GPU and 256GB of internal storage.
We've been video editing and retouching endless images in software such as Photoshop with this device never feeling like it's struggling to cope. Even when using multiple applications such as Chrome, Safari, Pages and Slack, there's no loss in performance and it's handled our daily workflow with ease. In fact, we doubt that home users will find anything this machine can't cope with and there is stacks of performance should you fancy some gaming once the day in the home office is done.
The standard M2 mini is a seriously impressive PC that makes owning a Mac far more affordable
If you think that you'll need some extra oomph, then the Mac mini is also available with the new M2 Pro chip inside.
We've not tested this model but Apple is boasting that its 12-core CPU with eight high-performance cores and four high-efficiency cores, along with up to a 19-core GPU makes it around 50 percent faster than an Intel-powered 27-inch iMac. Switching to this model will set you back an extra £700 but it might be worth considering if you want to start editing 8K videos or produce detailed 3D renders without suffering any lag.
For our money, the standard mini is a seriously impressive PC that makes owning a Mac far more affordable.
Design
The new Mac mini looks identical to its M1-powered predecessor which launched back in 2020. In fact, it looks indistinguishable from the first Mac mini that arrived in 2011 without a CD drive. In some ways, that's no bad thing as you get a desktop PC that features a premium aluminium finish and a sleek design that stands just 3.5cm tall.
The Mac mini still looks smart but we can't help feeling a little disappointed that Apple hasn't made the case a little smaller or added some refreshed colours to the lineup – it still only ships in silver and that's it.
Considering its £649 price, the mini feels perfect for students or home use and some iMac-style colour choices definitely wouldn't have gone a miss. Having recently tested the more premium Mac Studio – which features USB-C ports on the front of the casing – it's also a shame Apple hasn't followed with a similar update on the Mac mini.
All of the ports, which include two USB-C (four on the M2 Pro) and two USB-A sockets, are all on the back which makes them incredibly annoying to find and use.
Digging around in an attempt to plug in a cable or charge your iPhone is pretty irritating and a simple socket on the front would have fixed that issue.
There's no doubt that the new Mac mini will still look great in your home office it's just a shame that Apple hasn't tweaked things a little as some small changes would have made a huge difference.
macOS Ventura
Power up this new Mac and you'll find the latest macOS Ventura installed on its hard disk. This all-new operating system launched late last year and offers upgrades to apps such as Messages, Mail and Safari that improve the overall usability – you can even edit texts after they have been sent.
You'll also find new features such as Stage Manager which automatically organises open apps and windows making it easier to concentrate on tasks.
With Stage Manager switched on, you'll see the current window you are working in displayed prominently in the centre of the screen and other open windows appear on the left-hand side so they can quickly and easily switch between tasks.
It's a really useful function that's definitely worth trying out.
Another extra that Mac mini users will want to take advantage of is the Continuity Camera. This basically allows you to use your iPhone as the webcam which certainly makes the morning Zoom call look a lot more professional.
macOS continues to offer an abundance of features whilst keeping things simple and safe for the user plus it helps link the Mac mini seamlessly to other devices such as your iPhone or iPad.
Extras
On the rear of the standard Mac mini are numerous ports including two USB-C Thunderbolt ports, two USB-A ports and an HDMI socket so you can plug the Mac into a TV. There's also a Gigabit Ethernet port if you want to hard wire the internet for better download speeds.
It's worth noting that those opting for the more expensive M2 Pro Mac mini get four USB-C Thunderbolt ports which offer extra space for accessories and external monitors. Additionally, the more expensive M2 Pro model can support one 8K display, that's a first for the Mac.
If you happen to have a Wi-Fi 6E router in your home, the Mac mini is also fully compatible with this speedy broadband technology.
Price
We tested the entry-level M2 Mac mini which costs just £649. For that price you get an 8-Core CPU, 10-Core GPU, 8GB Unified Memory and 256GB SSD Storage.
Of course, you can spec things up by adding the M2 Pro processor, 19-core GPU and 32GB of Unified Memory and an 8TB hard disk but that will cost you £4,199. We've had no issues at all with the base model which offers incredible value for money.
If you haven't got an Apple keyboard, mouse or screen then things will clearly get more expensive but anyone who already owns these accessories will find this is now the cheapest way to buy a new M2-powered Mac.
As a comparison, the M1-powered iMac will set you back £1,399 – which is twice the price of the Mac mini.
Mac mini M2: Final Verdict
There's lots to like about the new Mac mini with the M2 chip inside making this small desktop PC capable of seriously sizable tasks.
If you simply need a device to send emails, surf the web, produce home videos and edit photos you really can't go wrong and even the most basic model doesn't struggle with what's being thrown at it.
Those wanting more power can spec things up with Apple offering that M2 Pro chip and up to 8TB of internal storage.
Of course, the £649 starting price doesn't include a keyboard or mouse and you will also need an external display to use this Mac. But if you already have these accessories then Apple's new PC is seriously affordable.
Yes, it's a shame that the design has remained stagnant and it's annoying there's no USB-C port on the front of the case. Some other colours, other than silver, would also have made things more appealing.
However, if you're looking for a powerful Mac that won't break the budget then the mini M2 is worth considering. It might be small but don't be fooled by appearances.
Source: Read Full Article