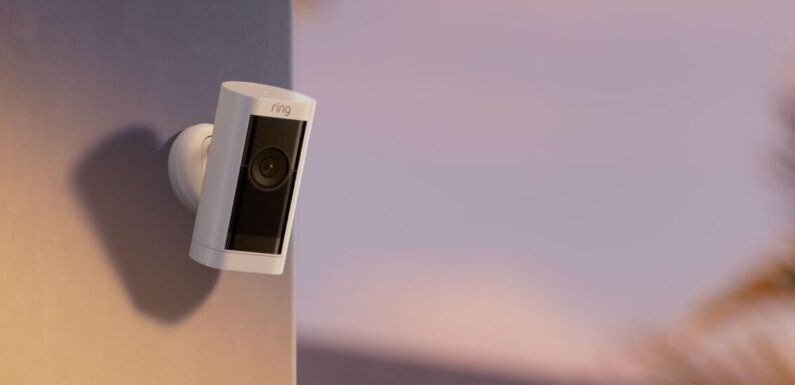 A new Ring security camera is on the way – and Amazon claims it is the most versatile and tech-filled cameras around.
The new Ring Stick Up Cam Pro is said to have enhanced 3D motion detection powered by radar technology with features like Bird's Eye Zones and Bird's Eye View which mean customers can use an aerial perspective to pinpoint and only send an alert when their camera detects movement from people in that exact location, providing more specific information for individual motion events.
For example, Amazon claims it can clearly show the path a delivery driver took from the front gate to the side door to drop off a package.
Along with that, the new Stick Up Cam Pro can be installed almost anywhere, inside or out. That means you can mount it to a wall, roof or ceiling, or place it on a bookshelf to keep an eye on what the dog is doing during the workday. 
It also comes with a 1080p HDR video with colour night vision as well as a weather-resistant design for indoor or outdoor use so you can keep a close eye on what is going on around your home.
Amazon has also added a new sound system which allows for clear sound thanks to two array microphones for enhanced audio, with echo cancellation and a security siren to help ward off intruders or your neighbour's cats.
You can even get the camera with a solar panel to keep it powered up without messing around with wires or you can get a battery version of the new camera.
It also works with other Alexa devices around the home and will alert you on your Echo device or your phone is there's movement in the location that the camera is looking.
Stick Up Cam Pro is available for pre-order today at £159.99 for battery and plug-in, and £179.99 for solar on Amazon. It will release on October 18.
That's not the only new think Amazon announced. A new Echo Show 8 is on the way and the new third-generation model arrives with a sleek curvaceous new design, improved speakers, and a clever software tweak that changes its behaviour on-screen depending on where you are stood in the room when using the Echo Show 8.
MORE LIKE THIS
Best Sky deals
Best iPhone 14 deals
Best iPhone 14 Pro deals
Best iPhone 13 deals
Best Galaxy Fold 4 deals
Best Galaxy Flip 4 deals
Best VPN deals
Best mattress deals
Disney Plus free trial
Best Disney Plus deals
Best Sonos deals
Best VPN for cheap flights
How to watch Love Island
How to watch Black Mirror
How to watch Clarkson's Farm
How to watch Daisy Jones And The Six
How to watch The Last Of Us
Best VPN
ExpressVPN review
NordVPN review
We use your sign-up to provide content in ways you've consented to and to improve our understanding of you. This may include adverts from us and 3rd parties based on our understanding. You can unsubscribe at any time. More info
Source: Read Full Article