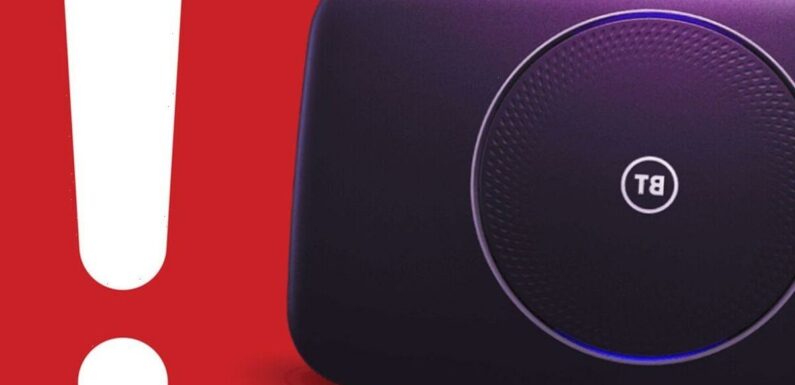 Millions of BT broadband users are about to be hit by a record price rise that could see some bills rise by over £100 per year. The telecoms giant announced the huge hike back in January with customers facing the prospect of paying more from March 31. That means there are just weeks left to shop around and find a better deal or negotiate with BT to get your current package a little cheaper.
And it's definitely worth taking some action as current costs are going up by a whopping 14.4 percent – one of the biggest increases ever!
That massive change is due to how BT works out its bill rises each year with the firm using the Consumer Price Index (CPI) to adjust its pricing.
With CPI at over 10 percent when BT made its announcement plus the firm's additional 3.9 percent on top it's going to hit pockets hard.
Here's what bills will go up from March 31
Price NOW – £20 • Price from March 31 £22.88
Price NOW – £30 • Price from March 31 £34.32
Price NOW – £40 • Price from March 31 £45.76
Price NOW – £50 • Price from March 31 £57.20
Price NOW – £60 • Price from March 31 £68.64
Martin Lewis issues warning on broadband inflation
We use your sign-up to provide content in ways you've consented to and to improve our understanding of you. This may include adverts from us and 3rd parties based on our understanding. You can unsubscribe at any time. More info
Although it's a huge hike, BT says it still offers good value for money.
Speaking about the upcoming changes, Nick Lane, MD Customer Services, BT Consumer said: "For those customers who will be affected by the price change it's important to put our price change in context. Telecommunications as a sector provides incredible value for money when you think that our customers are using as much as 50 per cent more data every single year. In fact, customers in the UK are some of the highest data users in Europe. At the same time, the cost of their combined fixed and mobile services are among the lowest in the region.
"We are also a small proportion of household spend every month – recent research says this is around 3.8%. And, with everything else on the rise, that small proportion is in fact decreasing: the average household spend on telecoms services has fallen by 19% compared with what it was five years ago."
Of course, BT isn't the only firm putting up prices with all of the major ISPs adding more money to monthly bills.
For example, EE, Vodafone and Plusnet are all hiking prices by 14.4 pecent. Virgin costs are rising by 13.8 per cent and Sky users will see an extra 8.1 percent on their current prices.
CONFIRMED BROADBAND & TV RISES
BT • 10.5% CPI + 3.9% = 14.4%
EE • 10.5% CPI + 3.9% = 14.4%
Plusnet • 10.5% CPI + 3.9% = 14.4%
Vodafone • 10.5% CPI + 3.9% = 14.4%
TalkTalk • 10.5% CPI + 3.7% = 14.2%
Shell Energy • 10.5% CPI + 3% = 13.5%
Virgin Media • Average 13.8%
If you are out of contract now is a good time to go shopping as many Internet Service Providers (ISPs) offer cheap deals for new customers. Switching is usually pretty painless and it can save some serious money – you might find you get faster speeds as well.
Source: Read Full Article