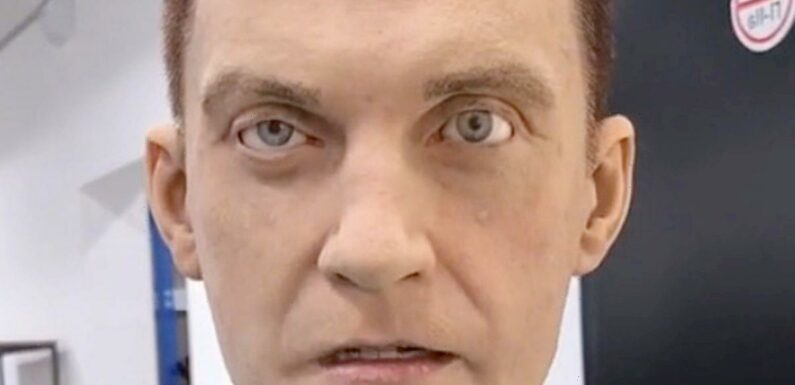 A creepy Russian robot plans to visit social media fans once he is given working legs by his creators, according to an eerie clip.
Engineers at Promobot, Perm Krai, have been working on an artificially intelligent assistant – styled to look like a real person.
The company, which has outlets across the world, have left viewers stunned – and terrified, in equal measure – after seeing just how lifelike they are.
READ MORE: Soldiers use headset to control robot dogs with their minds in Black Mirror-style video
In one video, a robot which has been given a human-like face of a man, was seen replying to a comment from a fan who asked if he can walk yet.
The clip, shows Alex moving his hands as he spoke to his followers, with life-like moving lips and blinking eyes, gaining more than 1,600 likes.
He said: "No, I can't walk yet but robot engineers are developing legs for me. I might be able to visit soon."
In the caption, his creators added: "We are working on it. Do you want Alex to come visit you?"
TikTok viewers took to the comments to praise the staff for their work but also praying the robot didn't visit them as they found him too "disturbing."
One user wrote: "Stop make it pleaseeee I'm scared."
Another commented: "I can't wait to see Alex walk."
A third said: "They want to download human consciousness into robots to imprison souls & control humanity."
"Destroy it!!! Going too far! Disturbing on many many levels," a fourth wrote.
For more incredible stories from the Daily Star, make sure you sign up to one of our newsletters here.
The news comes after soldiers started trialling technology that allows them to control robot dogs with their minds using a headset that monitors their brain activity.
The headset, which was created during a four-way collaborative project with the Robotic and Autonomous Systems Implementation and Coordination Office (RICO) of the Australian Army, was successfully demonstrated on YouTube.
The dystopian-like clip, which has gained more than 6,000 views, shows soldiers wearing a device which translates the user's thoughts into simple commands for the robot to follow.
READ NEXT:
Robot dog owner offers reward to track down 'drunk' woman who kicked his £8k pet
Futuristic robo-McDonald's 'without a human in sight' leaves fast food fans divided
'Most realistic deepfake' ever terrifies viewers who wonder 'is Morgan Freeman real'
You could go to prison for sharing your Netflix password under UK law
Source: Read Full Article