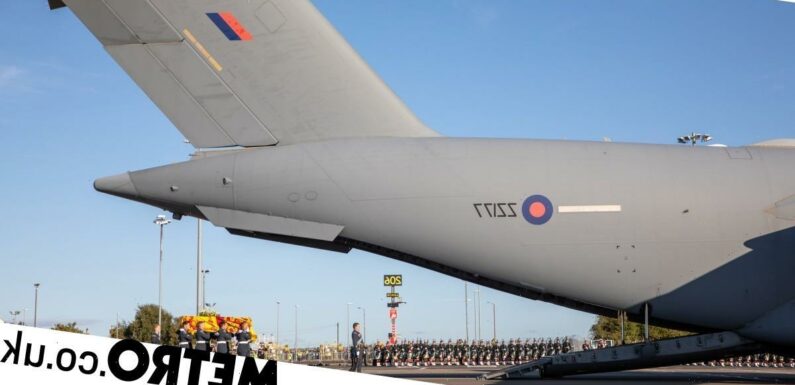 A Royal Air Force flight that carried Queen Elizabeth II's coffin from Edinburgh to London became the most tracked one in history.
On Tuesday, over 5 million people tracked the late monarch's final flight to London, according to flight tracking website, Flightradar24.
4.79 million people viewed the flight across Flightradar24 web and mobile app services and a further 296,000 followed the flight via YouTube live stream.
The queen's final flight from Edinburgh to RAF Northolt became the most tracked flight in history. The previous record for the most tracked flight was Nancy Pelosi's flight to Taiwan last month when nearly 2.2 million people tuned in to track the progress of the US lawmakers flight.
Within the first minute of the aircraft's transponder activating, 6 million people attempted to click on the flight carrying the Queen.
Despite calming measures the massive spike in traffic was caused 'disruptions' to the website. Eventually, around 600,000 users were able to successfully follow the flight before performance degraded.
The website said that it processed 76.2 million requests related to the Queen's flight along, including clicking on the flight icon, clicking on the aircraft information in the left side box or adjusting settings.
Queen Elizabeth II died peacefully last week at the age of 96 in Balmoral, ending a remarkable reign of more than 70 years.
Queen Elizabeth II dead: Latest updates
What happens next following the death of the Queen?
How long are the queues to see the Queen lying in state in Westminster Hall likely to be?
Map shows how queue to see Queen's coffin will snake through streets of London
Nationwide minute's silence for The Queen at 8pm on Sunday
Follow Metro.co.uk's live blog for the latest updates, and sign Metro.co.uk's book of condolence to Her Majesty here.
Source: Read Full Article