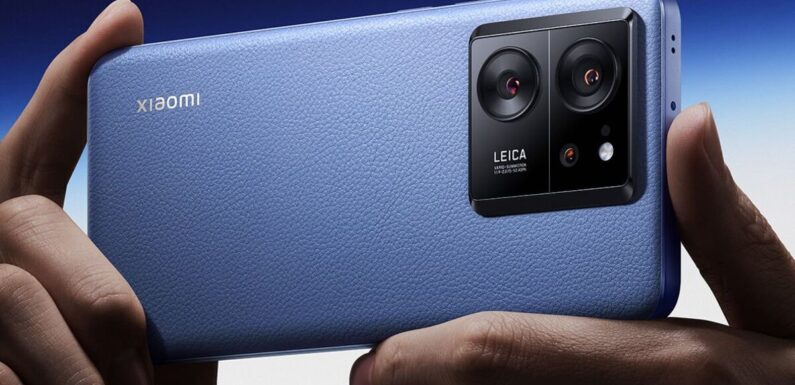 Samsung fans take note, there's a new rival Android phone in town that can fully charge in just 19 minutes – three times faster than the Galaxy S23 Ultra. The Xiaomi 13T Pro has just been unveiled, boasting 120W fast charging, a powerful processor, impressive cameras, and a big bright display.
It goes on sale today in the UK and costs just £649 – that's nearly half the price of the £1,249 Samsung Galaxy S23 Ultra. We've found the Ultra to be a great phone, but its eye-watering price will be off putting for some. Even the cheapest S23 costs £849.
The S23 Ultra takes nearly an hour to fully charge, which is a snail's pace compared to the 19 minutes it takes for the new Xiaomi to hit 100% from dead. Not only is it zippier, but the fast charger also comes in the box, unlike the Galaxy phone, which only ships with a USB-C cable.
Samsung users have to stump up £44 for the official charger, or buy a third party alternative. Whichever it is, they are stuck with slower speeds.
Even Apple's shiny new iPhone 15 and iPhone 15 Pro don't have truly fast charging. It's a great feature that Apple and Samsung's rivals are increasingly including though. In our experience, it feels like magic when your phone is dead, only to be plugged in and shoot to 100% in the time it takes to shower and make a coffee.
If photography is your thing then the 13T Pro has you covered with three cameras on the back, all adorned with the legendary Leica brand. The 50Mp main camera should take crisp, detailed shots, which you can also stylise with two exclusive Leica filters, or what Xiaomi calls "photographic styles".
We use your sign-up to provide content in ways you've consented to and to improve our understanding of you. This may include adverts from us and 3rd parties based on our understanding. You can unsubscribe at any time. More info
The phone comes in black, green, or blue, with the latter coming in a vegan leather finish that could be preferable to the glass of most other smartphones.
If you're tempted by the Xiaomi 13T Pro you can order it now for £649 from Xiaomi's UK store. There's also a cheaper Xiaomi 13T for £549 with fast (but not as fast) 67W charging that can top you up in 42 minutes – and yes, the charger is in the box.
Source: Read Full Article