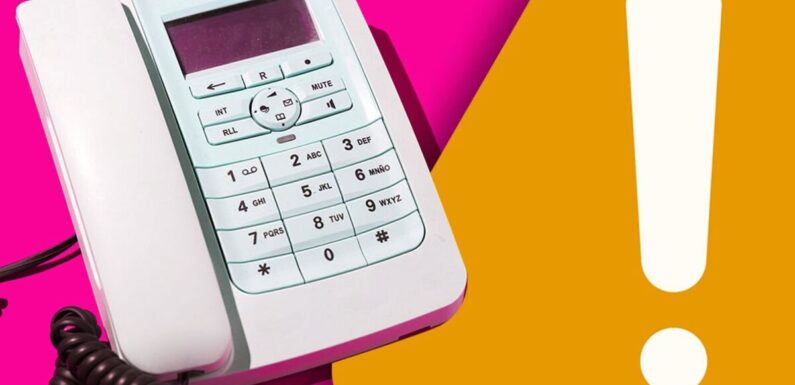 The humble landline has been around for decades but a big change is coming. The UK is set to turn off the old network by 2025, and BT has just revealed the next regions that are getting switched over to digital broadband technology. If your landline still taps into the hundred-plus-years-old copper wire network, BT plans to soon switch you over to its modern broadband service that delivers your landline over a digital internet connection.
Many service providers and phone manufacturers no longer support the copper service as the tech becomes less reliable. Your landline will live on by using VoIP (Voice over Internet Protocol), which needs an internet connection.
Customers across the UK in regions from Yorkshire to Northern Ireland have already been contacted as BT starts the process of moving customers to its new home phone service. The firm has just revealed when the remaining regions and countries will start to move to the new service, with the North West and London affected from Autumn 2023.
The West Midlands, the South East, Wales, and East Anglia can expect the switch in Spring 2024, while Summer of that year will see the North East, Scotland, and the South West make the move.
BT says all customers who are switched over will not pay extra for the new service, but if your existing home phone does not work with digital voice you'll have to order a new one. The firm says 99% of current handsets will work, though.
Homes that don't currently have a broadband connection will have to get one installed, and BT says its customers over the age of 70 won't be switched over without being contacted.
Julia Somerville discusses changes to BT landline system
"If we've not been in touch or visited your area yet, don't worry. We'll be in touch when it's time to switch," said Lucy Baker MBE, All-IP Director, BT Consumer. "For anyone who has any issues, questions or concerns, then I'd encourage them to get in touch and let us know."
There are calls to ensure customers of all ages are properly supported throughout the process.
"There are important advantages to going digital – such as a clearer connection – but it is essential that no-one gets left behind in the move away from traditional landlines," said Rocio Concha, Director of Policy and Advocacy at Which?
"Vulnerable consumers will need extra support to make the switch. All providers must put clear plans in place to make sure everyone has the help they need – including clear communications, giving proper notice ahead of switching and providing extra assistance if needed."
We use your sign-up to provide content in ways you've consented to and to improve our understanding of you. This may include adverts from us and 3rd parties based on our understanding. You can unsubscribe at any time. More info
All the UK's landline providers will have to switch off landlines by December 2025 when the sun will set on the traditional service for good. It's already the case that if you want to sign up for a new landline contract and your home has access to broadband, you'll have to switch to a new digital landline.
Source: Read Full Article