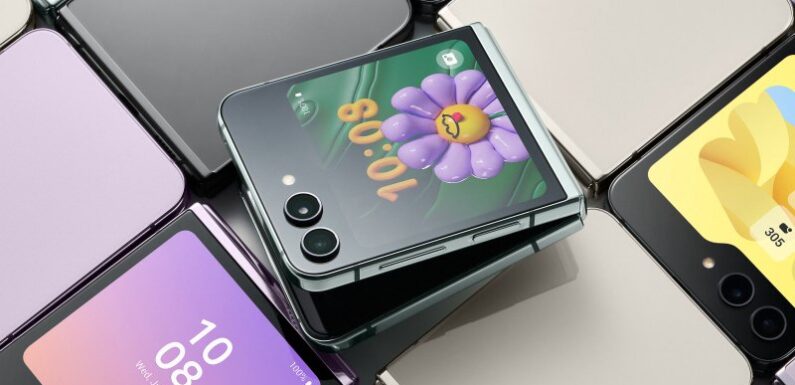 Save articles for later
Add articles to your saved list and come back to them any time.
Samsung has unveiled its fifth generation of folding phones at an "Unpacked" event in Seoul — hitting back at competitors that have brought several new flexible devices to market in the past year — while also introducing new watches and tablets.
The Korean company's retro-inspired Galaxy Z Flip line has become the most popular format for folding smartphones, with other brands including Oppo and Motorola introducing their own takes with bigger displays and less visible creases in the time since the 2022 Z Flip4 was released. This year's Z Flip5 is therefore a big deal for Samsung.
The Galaxy Z Flip5 has a much larger external screen.
The new phone has a much larger OLED screen on the outside shell (almost four times larger, at 3.4-inches), which can act as a lock screen and show notifications, or display various widgets and be used to compose or reply to messages. Samsung also showed off the camera viewfinder capabilities of the larger screen; particularly the ability for subjects to see what's being recorded.
Once opened up the phone has the same tall 6.7-inch OLED and fast 120Hz refresh as last year. But Samsung said the entire phone is more durable thanks to a new generation of Gorilla Glass, a new metal frame and a redesigned hinge. It has the same dual rear cameras and single selfie cam as the Fold4, but is powered by Qualcomm's new Snapdragon 8 Gen 2 processor.
The larger Fold5 hasn't changed as much since last year's device. It is very slightly thinner and around 10 grams lighter, while also featuring the redesigned hinge, frame and newer processor. As with the Fold4, it has a skinny 6.2-inch OLED on the outside and a square 7.6-inch OLED when opened up, both with adaptive 120Hz refresh. It also has a total of four cameras which are very similar to last year's; a 3x zoom, wide and ultra-wide on the back, one on the cover and one under the large display.
Samsung positions the Z Flip5 as a device for multitasking and productivity.
Samsung focused on the multitasking capabilities of the Fold5, showing a PC-like taskbar to switch between recent apps or arrange multiple windows on the screen, as well as the ability to cut and paste between apps by holding with one finger and dragging with another. The phone also works with a redesigned S Stylus, though it's sold separately and is not stored in the phone. Samsung will sell cases with stylus storage.
The company also revealed new wathes and tablets.
Both phones are now up for pre-order and will be available on August 18. In Australia they've each had a slight price increase relative to last year's devices. The Flip5 will start at $1650, and the Fold5 at $2600.
Samsung Australia's vice president of mobile, Garry McGregor, said the company's folding phones have redefined people's expectations of smartphones.
"Foldables, and by extension our Galaxy Z Series, are no longer a novelty. Adoption of Foldables continues to grow at pace both in Australia and around the world," he said.
"We can't wait to get these devices in the hands of Australians for an intuitive, connected experience that inspires them to be creative and express themselves."
Also at Samsung's event, the company unveiled a new line of Galaxy Watch6 devices and a series of premium tablets called Tab S9. The former has a focus on personalised health guidance and will start at $550. The latter comes with an 11-, 12.5- or 14.6-inch OLED and the Snapdragon 8 Gen 2, as well as a stylus, starting at $1300.
McGregor said the demand for tablets overall had slowed, but that there was an opportunity at the high end for productivity and creativity devices.
Get news and reviews on technology, gadgets and gaming in our Technology newsletter every Friday. Sign up here.
Most Viewed in Technology
From our partners
Source: Read Full Article