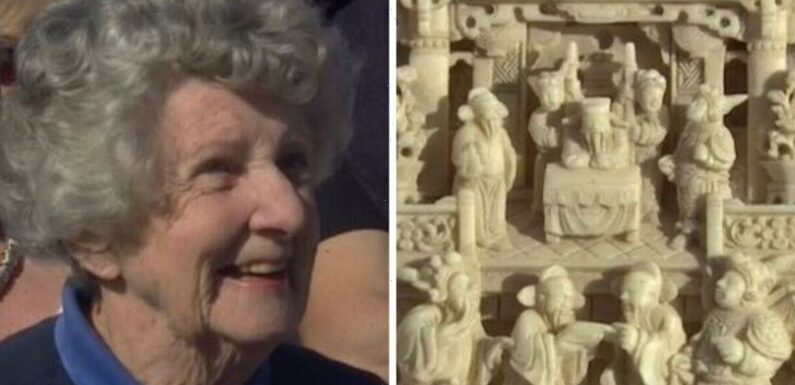 Antiques Roadshow: Expert values a Dickin Medal
We use your sign-up to provide content in ways you've consented to and to improve our understanding of you. This may include adverts from us and 3rd parties based on our understanding. You can unsubscribe at any time. More info
In an episode of BBC's Antiques Roadshow, one guest brought in a box which had been passed down by her family. Although after learning the high value the item would go for if it were to be put in an auction, she was left gobsmacked.
During an instalment of Antiques Roadshow, BBC viewers were taken to Polesden Lacey in Surrey where guests brought in a series of items to get valued by the experts.
Speaking to one guest, antique expert David Battie asked if the woman was keen on the box she had brought in before questioning how it came into her possession.
Admitting she was very fond of it, she told David: "I got it from my mother, who got it through her father who went out to the East at the end of the last century.
"He went first to China and then settled in Japan and started a trading business out there."
Looking at the dating, the expert informed viewers the box most likely came from the end of the 19th century to the beginning of the 20th.
Asking if she knew whether or not the box was made from plastic, the guest confessed if it was she would be horrified.
She said: "It would let down my whole family!"
However, after inspecting the item closer, David revealed it was made from ivory, which he could tell due to the in-depth carving on the lid.
He commented: "This scene is fantastically well detailed."
Discussing the type of tools that would have been used to create such an intricate box, the antique expert informed viewers the maker would have used drills.
He said: "A lot of people worry about the fact that this is made from ivory. In fact, governments have got together and produced the CITES convention.
"This means that any piece of ivory must be made before a certain date.
"There's absolutely no problem with this piece because it was a good 60 years before implementation."
Looking at the item, viewers learnt it was a jewellery box for a woman and had silver hinges, another sign of good quality.
When it came to revealing how much the box would be worth if it were to go into auction, David commented the guest was quite right to like it.
He said: "You'd be surprised at how much this would make. I think it would probably make £15,000 to £20,000."
When David revealed the high price, there were shocked gasps from the crowd as the guest was left speechless at the value.
The expert added: "I think it's actually the best thing I've seen all day."
Pleased with the price David had estimated, the guest had a huge grin on her face as she told him the value was lovely.
Antiques Roadshow is available to watch on BBC iPlayer.
Source: Read Full Article