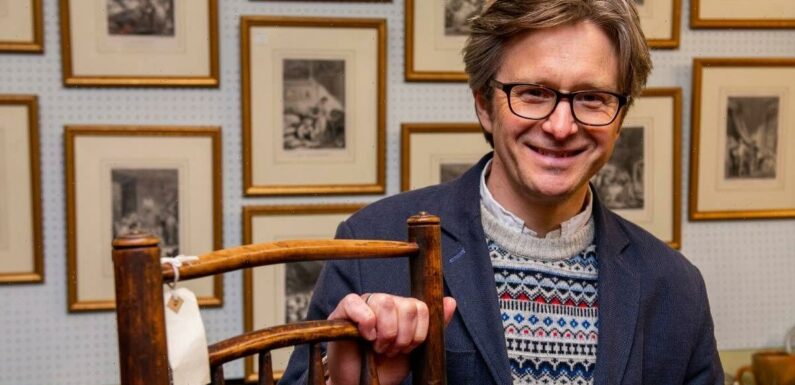 Thomas Forrester spots brooch on Bargain Hunt with colourful history
We use your sign-up to provide content in ways you've consented to and to improve our understanding of you. This may include adverts from us and 3rd parties based on our understanding. You can unsubscribe at any time. More info
Bargain Hunt wouldn't be the same without its team of experts, guiding the red and blue teams as they attempt to make a profit with their discoveries. An upcoming episode on the BBC will take viewers to Wrexham, with Jonathan Pratt joined by Christina Trevanion and Tim Weeks. Here's all there is to know about the life of Jonathan Pratt away from the cameras.
View this post on Instagram

A post shared by Jonathan pratt (@jonathanprattjp)
Jonathan Pratt, who is believed to be turning 50 this year, specialises in jewellery, watches, English furniture and Persian carpets.
He currently works as the managing director of Dreweatts Auctioneers and Valuers, having been appointed to the position five years ago.
Prior to this, he worked at Phillips in Guildford, Sotheby's in Sussex and was the managing director of Bellmans in 2005.
Jonathan is passionate about his work but he is also very busy when he isn't selling or evaluating antiques.
Does Bargain Hunt star Jonathan Pratt have children?
Bargain Hunt expert Jonathan Pratt is happily married but his wife's identity hasn't been revealed.
He did share a picture where he referred to his "family" featuring a blonde woman, so it is assumed this is his other half.
Also in the picture are their four children and to maintain their privacy, he hasn't given anymore information regarding who they are.
He did share another photograph last year with the four kids, three boys and a girl, with their backs to the camera, marvelling at a piece of art at The V&A.
His Flog It! profile gives viewers a bit more of an insight into Jonathan's personal life.
It says: "Married with four kids, three dogs, a thirty-year skiing habit he can't kick and a love-hate relationship with a guitar, when up early enough he loves to run with the family's motley crew of canines in the Hampshire countryside."
He also spoke to the BBC about what he does when he has some free time away from the job.
Jonathan commented: "Gardening, taxi driving the children, answering emails!
"I have also discovered the delights of playing croquet after buying a set at auction."
Don't miss…
Antiques Roadshow guest hides behind iconic painting after valuation[EXPLAINER]
BBC to air 'limited sport programming' over weekend [REVEALED]
Here's all there is to know about Bargain Hunt star Gary Pe [CAST]
During this conversation with the BBC he explained he had a very different career in mind when he was younger.
But it was the debut of a series about a swindling art and antiques dealer which got him hooked on his lifelong passion.
He said: "As a young boy I wanted to be a vet, but in 1986 the series Lovejoy started on the BBC and that was that."
Jonathan is one of the younger experts on the show, with 67-year-old Philip Serrell and 57-year-old Mark Stacey among the eldest.
This time, the Bargain Hunt cast is venturing to Wales for their next challenge.
The description for the latest episode reads: "Christina Trevanion is in Wrexham, where experts Jonathan Pratt and Tim Weeks guide the teams as they look for the best items to take to auction in Dudley.
"Also, Christina visits St Winefride's Well to find out about its gruesome but fascinating history."
Bargain Hunt continues every day at 12.15pm on BBC One.
Source: Read Full Article