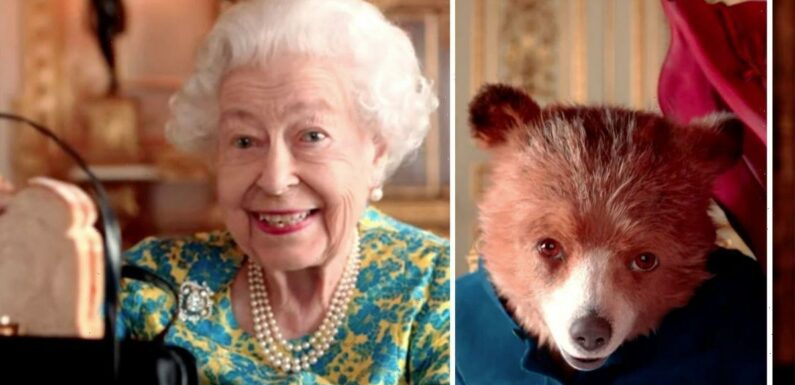 Queen: BBC News guest discusses Paddington Bear scene
We use your sign-up to provide content in ways you've consented to and to improve our understanding of you. This may include adverts from us and 3rd parties based on our understanding. You can unsubscribe at any time. More info
Many will remember the iconic skit between Queen Elizabeth II and Paddington Bear that kicked off her Platinum Jubilee celebrations. The sketch saw Paddington and Her Majesty sit down to enjoy a cup of tea and sandwich before the concert outside Buckingham Palace began. However, one BBC royal reporter left viewers in hysterics on Monday afternoon as they shared the "shocking" information that Paddington Bear wasn't real, and it was CGI.
The skit saw Paddington wishing Her Majesty a "lovely Jubilee" before he told her: "Thank you… for everything."
Since then, the clip has amassed over 9.5 million views on Youtube, and is still being highly spoken about three months down the line.
As rolling coverage of the Queen's death continues on BBC News, one royal commentator left viewers in stitches during Scotland: A Service for HM the Queen airing.
Discussing the iconic clip that gave many viewers some fond memories, the commentator said: "Can I just add something about the Paddington Bear skit that we've all seen?
"We should remember that she acted that in an empty space! It wasn't the real Paddington there, even though it looked like it.
"She acted out what she would say to Paddington, and then the CGI experts went in and animated a Paddington image for her!"
Shortly after, the clip soon surfaced online with many Twitter users mocking and teasing the commentator for his "childlike" enthusiasm.
Quoting the clip, Twitter user Russell Warfield exclaimed: "Hang on… WHAT!"
@ElunedAnderson asked: "Paddington… Isn't real?!"
Richard Clark teased: "What? PADDINGTON isn't real!!? What devilish nonsense is this?"
Benjamin Cohen commented: "Genuinely until BBC News explained it, I actually thought that The Queen performed her Paddington sketch with a real-life bear. Get someone a Pulitzer Prize quick!"
@lizmitches wrote: "So you're saying Paddington is not even real??? BBC is taking it a bit too far now luvs." (sic)
@MaryEllison_99 laughed: "Can I just say, I LOVE this news guys childlike enthusiasm over Paddington not being real! It's like Father Christmas all over again!" (sic)
The Paddington skit still seems well and truly engrained in people's memories as BBC Breakfast presenter Sally Nugent had to advise mourners to stop bringing Paddingtons and marmalade sandwiches.
She explained: "So please, feel free to bring flowers, but maybe don't bring anymore Paddingtons or marmalade sandwiches for now."
Mourners have been flocking to Buckingham Palace and Windsor Castle to pay their respects to the death of Her Majesty The Queen.
The Queen's funeral is set to take place on September 19, with the service being televised for everyone across the nation to pay their respects.
Her funeral will break hundreds of years of royal tradition, as it will take place at Westminster Abbey, where she was married and crowned.
She will be buried at St King George VI Memorial Chapel at Windsor, to join her father, King George VI, and mother Queen Elizabeth, as well as her sister, Princess Margaret.
Prince Philip, the Duke of Edinburgh, who died in April 2021, his coffin will also be moved so he is alongside his wife.
Source: Read Full Article