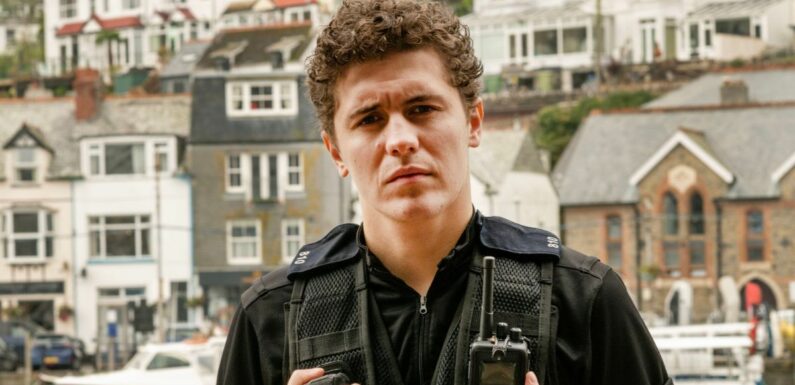 Beyond Paradise and Death in Paradise cast united in crossover
Having spent most of his adult life to date playing a schoolboy in Derry Girls, actor Dylan Llewellyn's latest and more age-appropriate role as PC Kelby Hartford in Beyond Paradise should be a breeze. However, the 30-year-old has revealed that filming the Death In Paradise spin-off was not without its challenges. Particularly when it came to filming on location in the picturesque Devon and Cornwall thanks to the British weather.
"Shooting around the West Country was amazing," he admitted.
"It is a lovely, beautiful place to be with the countryside and the beaches.
"Shooting towards the end of summer meant we were able to enjoy some great weather, too."
"At times it was difficult to shoot inside the set of the police station as it got really hot!" he confessed.
"But I loved having my own desk there. We shot a lot in Looe, which I would say was my favourite location."
Despite the difficulties with the heat, which is not a problem often encountered in the UK, Dylan really enjoyed playing a grown-up for a change,
"Finally, I'm playing an adult! It's been fun and different in comparison to playing an awkward teen or a university student," he shared.
"He is a working man, a police officer, with a lot of confidence and drive, who doesn't take any nonsense."
Don't miss…
Gregg Wallace refuses to eat MasterChef hopeful's dish [INSIGHT]
Antiques Roadshow guest taken aback by value of bracelet [INSIGHT]
Emmerdale wedding ruined as Chloe Harris goes into labour[SPOILER]
Series one reached an emotional conclusion last week as DI Humphrey Goodman visited his old stomping ground in Saint Marie to clear his mind and consider his future in Shipton Abbott.
Fans will find out if he has made any major decisions this coming December.
No doubt Kelby will be thrilled to continue his adventures with Humphrey also.
"Kelby looks up to Humphrey," Dylan said. "He is really impressed and in awe of his work.
"He always wants to do better and improve, so enjoys learning from Humphrey and sees him as almost a father figure.
And as for the rest of the team, Kelby also views them as a family as Dylan explained: "Everyone sees him as a little brother, so I think they all look after him.
"Kelby and Margo have a bit of back and forth, butting heads at times, but there is still a lot of love there."
Season One of Beyond Paradise is available on the BBC iPlayer.
Source: Read Full Article