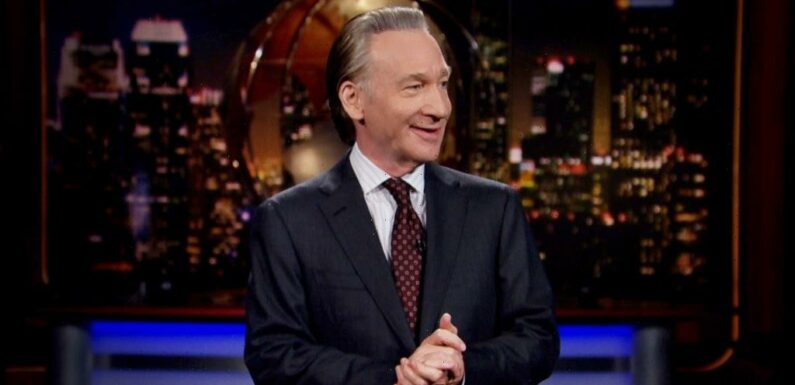 It's Oscar weekend in Hollywood, and the Real Time live audience was in the mood for some show business insight. Host Bill Maher didn't disappoint.
This year's Oscars has some changes, Maher said. "They're asking, 'Who are you slapping?'
He also noted that it's hard to remember who won what from year to year. "You win and you disappear," Maher noted. He waited a beat. "Like Kamala Harris."
Maher admitted he's rooting for one actor in particular – Tom Cruise. "I want to see a person get up and say, "I want to thank Xenu."
Related Story
Bill Maher's 'Real Time' Sees Russell Brand And Sen. Bernie Sanders Take Aim At The Status Quo
All of that in the opening monologue was the warmup to Maher's closing editorial in his "New Rules" section.
In a segment called "The Scold and the Beautiful," Maher reflected on the origins of award winners telling us their views, or "how bad people have it by the people who have it the best."
Maher recalled that it's been 50 years since Sacheen Littlefeather caused a sensation by accepting the Best Actor award for Marlon Brando. She used the platform to detail how Hollywood had mistreated Native Americans.
What Maher found interesting in accounts of that 1973 moment was that Littlefeather was greeted with boos and jeers by the crowd. One producer said she would be arrested if her message went over 60 seconds, and legend has it that actor John Wayne had to be restrained from charging the stage. "This is back when storming the stage was not allowed," he wryly noted.
That was then. But if she made that speech today, she would be embraced by the audience, Maher said. "That is because of progress," he said.
He then pointed out all the ways that the world has changed since that moment. He noted that change take time, and often the leaders are late to adjust. "I don't know if everything happens everywhere all at once," he said, referencing the Oscar favorite. "But I do know that everyone is late on everything, because that's what it is to be human."
The liberals are late, he noted, "but they do tend to keep going until we get there." He listed films that have led to greater understanding in issues ranging from AIDS to interracial marriage.
"They were dicks to an Indian in 1973, but a;ong the way, Hollywood moved the country forward."
He concluded, "So, thank you, Hollywood."
Earlier, songwriter David Byrne talked about cowriting the Oscar-nominated song "This Is A Life" for the film "Everything Everywhere All At Once,"
Bryne said the song "is about a family reconciling. I said, 'That's what it's about. We have to put a pin in that." He also allowed how he and his former Talking Heads bandmates "are on pretty good terms."
This week's panel discussion saw New York Times newsletter author and contributor to "The Glenn Show" podcast, John McWhorter, teamed with journalist, executive producer, and COO for Eden Productions and Kunhardt Films, Josh Tyrangiel.
Their discussion ranged from Donald Trump's appeal to the difference between equity and equality.
Must Read Stories
Roku Had One-Fourth Of Its Cash In Failed Silicon Valley Bank, Most Of It Uninsured
'Scream VI' Getting Loud As Sequel Cuts Path To Franchise-Record $42M Opening
Oscar Inventory Sells Out, But ABC Gets Slightly Lower Rates Than Last Year
Parties For Aussies & Irish; Best Books On Oscar; Farewell To Mirisch; More
Read More About:
Source: Read Full Article