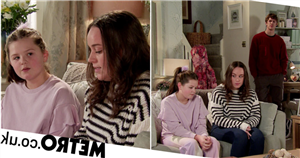 Faye Windass (Ellie Leach) is faced with a dilemma in upcoming Coronation Street episodes as she meets Jackson again – the father of her daughter, Miley.
Miley and motherhood entered Faye's mind again a few weeks ago, when Jackson revealed that he was moving back to the UK after spending the majority of Miley's life so far in Canada.
Jackson asked Faye if she would like to spend time with their daughter but she immediately declined, adamant it would stir up old feelings and make things incredibly confusing.
The story hasn't ended yet though, as Jackson will meet Tim (Joe Duttine) and Sally (Sally Dynevor) tonight and then next week, Tim decides to secretly spend time with his granddaughter when Faye heads out for the day with Craig (Colson Smith).
Tim's day is going well – up until Miley spots Eliza (Stu's granddaughter) on the cobbles and they get chatting, just as Faye and Craig pull up in a cab.
After Tim points out to Faye that if she passes up the chance to get to know her daughter, she'll regret it for the rest of her life, there is progress as a nervous Faye ends the week spending time with Jackson and Miley.
But where will this lead?
If Faye and Miley grow close, what about Craig?
Source: Read Full Article