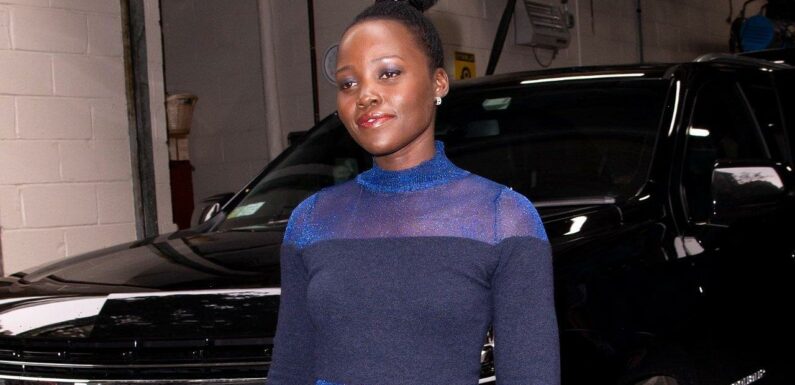 The Oscar-winning actress, who will reprise her role as Nakia in 'Wakanda Forever', is said to be in final negotiations to star in Paramount's 'A Quiet Place: Day One'.
AceShowbiz –Lupita Nyong'o is likely heading straight to "A Quiet Place" from Wakanda. The Oscar-winning actress, who is set to make her return in the "Black Panther" sequel, is close to joining another popular franchise at Paramount.
Nyong'o is reportedly in final negotiations to star in "A Quiet Place: Day One", a spin-off to the popular horror film series. Michael Sarnoski, who directed Nicolas Cage in "Pig", will helm the upcoming movie based on an original idea from John Krasinski.
Details of Nyongo's role and the story are still kept under wraps, but it is said that the hope is the film will help set up a potential "Quiet Place" universe that the studio can build on for years to come. It is also almost certain that Krasinski and Emily Blunt will not reprise their roles in this new installment.
The spin-off film is set to bow on March 8, 2024. Meanwhile, a "Quiet Place" threequel is currently also in development with Krasinski returning at the helm. The third film is expected to arrive sometime in 2025.
The original franchise was created based on an original story by Bryan Woods and Scott Beck. Krasinski directed the 2018 post-apocalyptic horror film, in addition to starring in it alongside his wife Blunt.
The movie went on to become a sleeper hit, grossing more than $350 million worldwide against a reported budget of $17 million and received critical acclaim. It has spawned a sequel, "A Quiet Place Part II", which was released on May 28, 2021.
Krasinski did not star in the second film, but he's back at the helm. Meanwhile, Blunt reprised her role as Evelyn Abbott, who leads her family to search for other surviving humans. It grossed $297.4 million worldwide. Despite not being able to surpass its predecessor, it was a stellar number considering the movie was released in theaters amid the struggles to revive the business during the COVID-19 pandemic.
As for Nyong'o, she made her first feature film debut in Steve McQueen's biopic "12 Years a Slave" (2013), for which she received critical acclaim and won the Academy Award for Best Supporting Actress. She later joined MCU by starring in "Black Panther" (2018) and starred in Jordan Peele's horror film "Us" (2019). The 39-year-old reprises her role as Nakia in the upcoming Marvel superhero movie "Black Panther: Wakanda Forever", which is only days away from its release date on November 11.
Source: Read Full Article