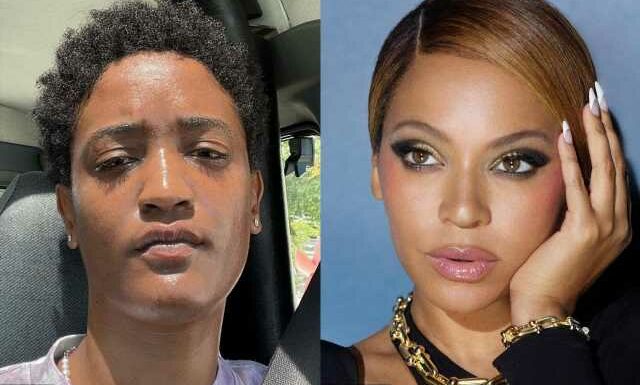 Fans are excited after the Odd Future member shows on her Instagram Story a floral arrangement that she receives from the 'Break My Soul' hitmaker for her contribution to the 'film.'
AceShowbiz -Beyhive may be getting another treat from Beyonce Knowles this year if not later. Syd (formerly Syd tha Kyd) has got fans excited as she has appeared to drop a hint at the R&B diva's secret project.
The revelation came through Syd's Instagram Story as she showed off a bouquet of white flowers that she received from Bey along with a thank-you note. "Thank you for contributing so much to the film. I'm looking at the footage and you're incredible. I'm forever grateful. B," the former Destiny's Child member wrote in the note.
Syd simply captioned the Story with, "Thank you @beyonce," without mentioning what they have been working on together.
Many have since reacted to Syd's Stories, with some people worrying that the 30-year-old singer might be getting a consequence for spilling the beans. "Did she tell you it was okaayyy to post this cuz what film," one person asked. "Dang she might get edited out now," another claimed. A third commented, "Lmao not someone saying she about to get edited out the film lol."
Others speculated what the secret project might be. "Chile it better be these damn renaissance visuals," one person guessed. Another fan wrote, "I really believe Beyonce is going to drop the visuals to 'Renaissance' on Netflix as part of her 3 project deal. Mark my words."
Some others were simply excited for the new project from Bey. "Idk if this was planned or Syd is going to be on big trouble but we won," a fan reacted to the news. Another exclaimed, "WE'RE ABOUT TO FEAST SOON OMG." Someone tweeted, "Oh it's coming," while another promised, "We will be watching."
Syd has previously collaborated with Bey for her seventh studio album Renaissance, which was released in July of this year. The member of alternative hip hop collective Odd Future (Odd Future Wolf Gang Kill Them All) was credited as a co-producer for the song "Plastic Off the Sofa" off the No.1 album.
Source: Read Full Article