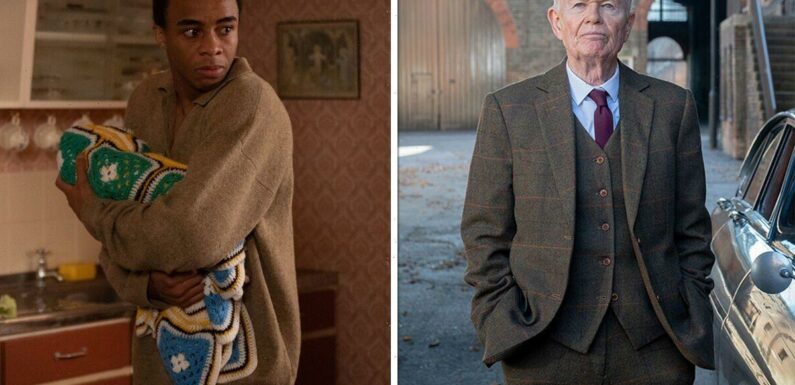 Call the Midwife: BBC releases preview for upcoming episode
We use your sign-up to provide content in ways you've consented to and to improve our understanding of you. This may include adverts from us and 3rd parties based on our understanding. You can unsubscribe at any time. More info
Call the Midwife is back on BBC One and the upcoming episode follows a pregnant mother with a chronic heart condition. Meanwhile, Nancy Corrigan (Megan Cusack) grows suspicious of a young father's erratic behaviour. Express.co.uk has all you need to know about who else is in the cast.
Peter Barkely – Rob Witcomb
Peter is played by Rob Witcomb, who fans may recognise from Ladhood and Gentleman Jack.
He is also known for his roles in Stephen, Not Going Out and Grantchester.
Annette Barkely – Olivia Brady
Annette is played by Olivia Brady, who has just finished a new project called Scrapper.
She is also known for her roles in Broke, Top Boy and Grantchester.
Sir Brigham – Michael Cochrane
Sir Brigham is Matthew's (Olly Rix) father and he does not hold a positive opinion of Poplar.
While Matthew wants to invest more in the area, his father is more willing to tear it down.
He is played by Michael Cochrane, a radio and TV actor known for playing Oliver Stirling in The Archers.
He is also known for his roles in Wings, Sharpe and Return of the Soldier.
Dr Threapwood – Timothy Harker
The chairman of the Board of Health is still on the backs of the nuns and midwives at Nonnatus House.
He is played by Timothy Harker, who came late to the acting profession.
Since training, he has appeared on stage, on television and in film.
His credits include Doctors, The Other One and Coronation Street.
Dr Lathway – Penelope Woodman
Dr Lathway is played by Penelope Woodman, a London-based TV and musical theatre actress.
She is known for Coronation Street, Girls' Night and The Legacy of Reginald Perrin.
Florence Wray – Angela Wynter
Florence is going through a difficult time with a young father and she is played by Angela Wynter.
Angela is a Jamaican-British actress known for her role as Yolande Trueman in the BBC soap opera EastEnders.
Spencer Wray – Keenan Munn-Francis
Spencer is seen by Dr Turner (Stephen McGann) as he is displaying dangerous behaviour.
He is played by Keenan Munn-Francis, who has previously starred in Doctors and Casualty.
Maggie Williams – Joanne Seymour
Maggie is played by Joanne Seymour, who has recently filmed the project Nuts.
She is also known for her roles in EastEnders and River.
Mrs Terrence – Taryn Kay
Mrs Terrence is played by Taryn Kay, a British actress, dancer, presenter and voice artist.
She is known for her roles in Are You Being Served? and Parting Shots.
Jill Mellor – Justine Moore
Jill is played by Justine Moore, known for her roles in Baby Doll and Bellmouth.
Mr Roberts – Richard Syms
Mr Roberts is played by Richard Syms, who starred in the film Johnny English: Reborn.
His other credits include The Crown, Home, Grantchester and Humans.
DON'T MISS…
Call the Midwife fans 'in tears' after Reggie diagnosis
Linda Bassett's age explained as she takes Call the Midwife spotlight
Helen George details 'utterly terrifying' role away from BBC series
Stallholder – Alan Mitchell
Alan Mitchell has a guest role in the series and he is an actor, impressionist and writer.
He is known for his pantomime roles but has also starred in Solar and Closer.
Elderly lady – Patsy Blower
Patsy Blower starred in the popular soap Crossroads: Kings Oak in her prime.
She is also known for Happy Ever After, The Last Bus and Two's Company.
Obstetrician – Matthew Bates
Matthew Bates has just finished filming with Helena Bonham Carter in the upcoming series Nolly.
He is also known for his roles in The Larkins, Doctors, The Crown and Homeland.
In September 2021, he portrayed Andy Goddard in an episode of the BBC soap opera Doctors.
Hospital midwife – Carol Moses
Guest star Carol Moses has previously starred in Reggie Perrin, The Bill and Holby City.
Police sergeant – Chas Early
The police sergeant is played by Chas Early, an actor and playwright known for Casualty and Skins.
He is probably best recognised for portraying the late comedian Bill Hicks in his one-man show, Bill Hicks: Slight Return.
One of his most recent roles was as Andy Goddard in an episode of Doctors.
Call the Midwife airs on Sundays on BBC One at 8pm
Source: Read Full Article