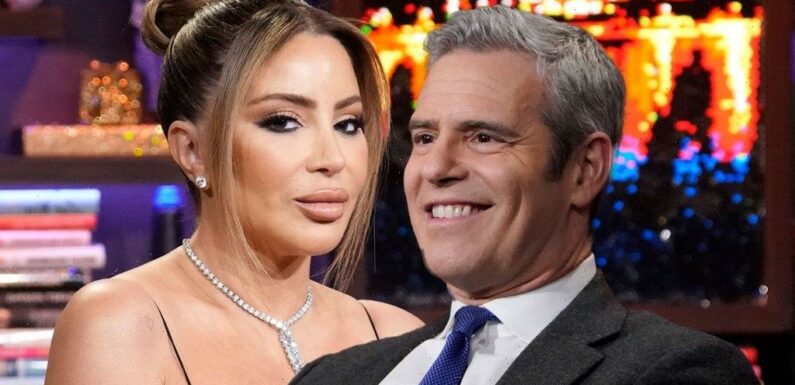 Andy Cohen sat with the stars of The Real Housewives of Miami to film the Season 5 reunion and things got seemingly heated. The Watch What Happens Live host took to social media to apologize to Larsa Pippen after he raised his voice at her.
"Still shooting and I didn't have screaming at Larsa in my bing card today," he shared on his Instagram Stories from the set of the RHOM Season 5 reunion.
Pippen is heard asking the late-night show host if he was going to apologize to which he obliged and said, "I'm sorry Larsa."
Related Story
Peacock Axes 'Dead Day' From Julie Plec & Kevin Williamson
RHOM co-star Marysol Patton is then heard in the background asking "for what" was Cohen apologizing for.
Cohen then added, "For screaming at [Pippen]. I just… I don't like screaming at women. I said it on the break, I don't want to scream at women. Anyway, sorry."
https://www.instagram.com/p/Cn5YQFEPYSj/
https://www.instagram.com/p/Cn5YQFEPYSj/
A post shared by Queens of Bravo (@queensofbravo)
Bravo and Peacock also revealed the seating chart for the RHOM Season 5 reunion, which always causes drama. Some prefer seating next to Cohen as it means they are the stars of that particular season, while others prefer not to be so close to him as it means they will get grilled harder.
Sitting closest to him this season was Lisa Hochstein (on the left side) who was at the center of drama surrounding the downfall of her marriage. Sitting on the right side was Dr. Nicole Martin, who had a lot of feuds with her fellow housewives.
On the couch led by Hochstein, were Pippe, Alexia Echevarría, Patton and Kiki Barth. On the other couch next to Dr. Martin were Julia Lemigova, Adriana de Moura and Guerdy Abraira.
The RHOM Season 5 reunion will consist of two parts and will air later this year on Peacock.
Must Read Stories
Controversy Over 'To Leslie' Campaign Heats Up, But Is It All Much Ado About Nothing?
Hollywood's Unions & AMPTP Extend Covid Safety Protocols Through April 1
CNBC's Denise Contis & Timothy Kuryak To Exit As Network Moves Out Of Primetime Originals
As Potential Writers Strike Looms, Reality Producers See Possible Unscripted Boom
Read More About:
Source: Read Full Article