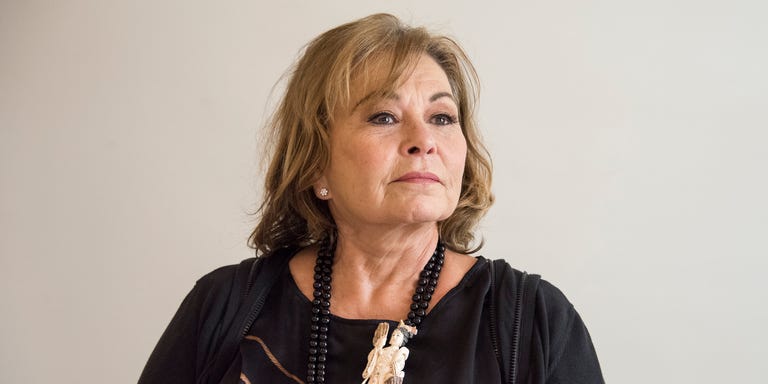 Roseanne Barr apologized and said she's leaving Twitter after she tweeted a racist comment about former White House adviser Valerie Jarrett Tuesday morning. Though the tweet appears to have been deleted, Politico reported that it read, "muslim brotherhood & planet of the apes had a baby=vj." Jarrett declined to comment to Politico through a spokesperson.
Barr, who initially dismissed the comments as just a joke, apologized for her comment Tuesday. "I should have known better," she wrote. "Forgive me- my joke was in bad taste." She then claimed to be leaving Twitter.
I apologize to Valerie Jarrett and to all Americans. I am truly sorry for making a bad joke about her politics and her looks. I should have known better. Forgive me-my joke was in bad taste.
I apologize. I am now leaving Twitter.
But the damage was already done. Celebrities and public figures like Rosie O'Donnell, Don Cheadle, and April Ryan called out Barr for the comment. And Wanda Sykes, who was a consulting producer on the show's first revival season, announced she would not be returning for Season 2.
her racist comment was childish
and beneath her best self https://t.co/46UxuufsnE
you can take @RoseanneOnABC out of racism but you can't take the racism out of @therealroseanne … https://t.co/sJs7Hn5zrn
You have a black grandchild on your show. What do you think of her and what will you say to her. Just ignorant! I won't be watching re runs or anything from you ever again!!! https://t.co/v10iWe3TIG
I will not be returning to @RoseanneOnABC.
Barr has been called out frequently for her incendiary tweets, and this wasn't even the only incident that day. She erroneously said Chelsea Clinton was married to a nephew of George Soros, and after Clinton corrected her, erroneously claimed Soros was a Nazi.
Good morning Roseanne – my given middle name is Victoria. I imagine George Soros's nephews are lovely people. I'm just not married to one. I am grateful for the important work @OpenSociety does in the world. Have a great day! https://t.co/mXokiTEwN7
Sorry to have tweeted incorrect info about you!I Please forgive me! By the way, George Soros is a nazi who turned in his fellow Jews 2 be murdered in German concentration camps & stole their wealth-were you aware of that? But, we all make mistakes, right Chelsea?
Others, including Joe Scarborough and Al Sharpton, specifically called on ABC, which airs Roseanne, to take action. Barr's tweets came a week after the season finale of the Roseanne revival, which has been picked up for a second season after breaking ratings records.
According to CNN, ABC executives have privately said they "hold their noses" whenever Barr tweets. But this may have taken things too far. The network has not responded to Elle.com's request for comment.
Hey @ABC, Roseanne Barr compared Valerie Jarrett to an ape. There is no apology she can make that justifies @ABC turning a blind eye to this bigotry by airing another second of her show.
Even in the Age of Trump, there are red lines that can never be crossed. This is one.
The comparison by Rosanne Barr on ABC of Former Obama aide, Valerie Jarrett to an APE is racist and inexcusable. ABC must take action NOW!
[email protected], how desperate are you to profit from Roseanne's racism? We know racism sells in this country, it always has. But you don't have to participate in it. This apology is meaningless. Cancel Roseanne. https://t.co/gpbslQZbJX
From: ELLE US
Source: Read Full Article