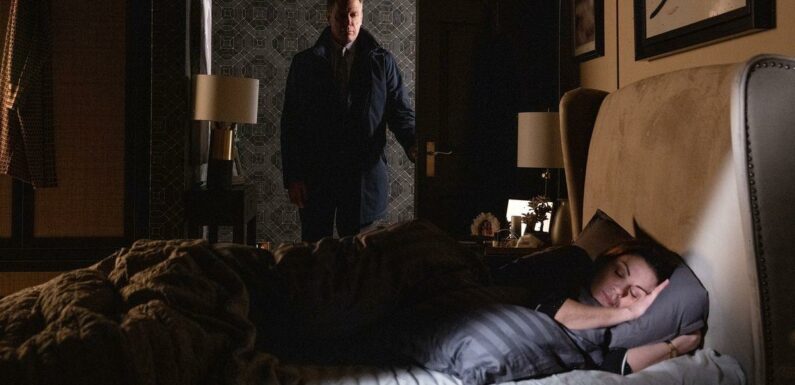 Coronation Street favourite Carla Barlow (Alison King) is left in grave danger next week as evil Stephen Reid (Todd Boyce) continues his hate campaign against her.
As Carla stresses about ending up back in prison as an uninsured driver following her recent car accident Peter Barlow (Chris Gascoyne) promises her that won't happen.
Sarah Barlow's surprised when a preoccupied Carla agrees to a staff bonus after they bagged the American deal. Meanwhile Stephen surreptitiously calls Rufus.
READ MORE: Corrie's Aaron exit 'sealed' as fans 'work out' Tracy Barlow's rape revenge plot
Carla sees Dr Gaddas (Christine Mackie) describing how each time she's suffered an episode, it feels like she's tripping on drugs and Dr Gaddas prescribes her with diazepam.
As the Americans arrive Stephen reminds Carla how it's imperative that she's on top form.
Carla can't believe his nerve and as she takes charge, orders him to make the tea.
Angry at being belittled, Stephen double doses Carla's drink.
As the meeting draws to a close and the LSD kicks in, Carla's behaviour becomes erratic.
With the Americans gone the girls celebrate the deal, but they're interrupted by a worse for wear Carla who barks at them to get out of her factory.
The girls are dumbstruck while Stephen allows himself a satisfied smile.
Feeling better, Carla announces she's going to work.
She assures Peter and Stephen that the day before was a blip but as she goes to make a drink she smashes a mug and cuts her finger.
Struggling to cope, Carla concedes that she needs another chat with Dr Gaddas who suggests she takes an extended break and goes back on her antipsychotic drugs.
Having pocketed her keys from the factory, Stephen lets himself into the flat and checking Carla's asleep, drops her keys back in her bag before heading into the kitchen and turning on the grill.
Fans will have to wait and see if Carla makes it out alive or if Stephen finally bumps off the Underworld boss.
He's been trying to get hold of Carla's knicker factory business for months.
Coronation Street airs Monday, Wednesday and Friday on ITV1 and ITVX
For the latest breaking news and stories from across the globe from the Daily Star, sign up for our newsletter by clicking here
If you've been the victim of sexual assault, you can access help and resources via www.rapecrisis.org.uk or calling the national telephone helpline on 0808 802 9999
READ NEXT:
Coronation Street spoilers: Justin's fate exposed, Hope abuser horror and rape ordeal
Corrie's Georgia Taylor responds as loved-up snaps with co-star spark romance rumours
Corrie fans brand ITV soap a 'horror movie' as LSD storyline spirals out of control
Source: Read Full Article