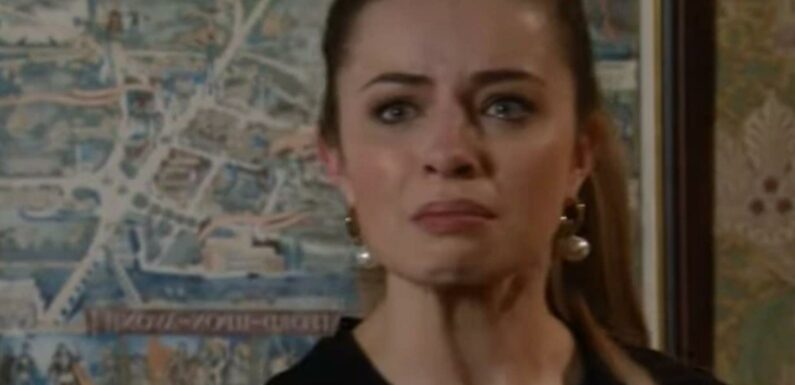 FANS of Coronation Street have been left furious at the way the police have handled Daisy Midgeley's terrifying stalking ordeal.
Poor Daisy has faced a difficult time recently on the soap at the hands of stalked Justin and her cried for help from the authorities have largely been disregarded forcing the barmaid to attempt to shut herself off from the world.
Her ordeal took another terrifying turn this week as Justin managed to get into her home after forcing her to postpone plans for her wedding.
Daisy, who enjoys a side career as an influencer, had managed to bag a series of gifts and freebies for her upcoming nuptials to Daniel Osbourne as a result of her social media following as part of a promotional deal.
However, she was dealt a devastating blow when her gifted wedding dress was revoked by the brand after Justin contacted all of the brands Daisy worked with to tell them she assaulted them and as such they were all forced to severe ties with her to protect public image.
Daisy was left heartbroken after Justin ramped up his terror and the Police in particular continued to fail to act.
Read More on Corrie
Tim Metcalfe betrays daughter Faye in Coronation Street shock
Coronation Street fans baffled by Daisy Midgeley stalking blunder
Craig Tinker told Daisy and Daniel that there was nothing the police could do as he had not yet committed a crime.
Daisy was left feeling as though he would have to seriously harm her in order to get him prosecuted.
Police officer Jess is the only member of the force to have shown sympathy with Daisy after encouraging her to take out a protection order with the outcome still pending.
However, furious fans have slammed the police's reaction and have called for Craig and his colleagues to be struck off as a result of their behaviour.
Most read in Soaps
Emmerdale filming cancelled at the last minute as schedule is thrown into chaos
Dying Lola Pearce hides hospital secret from husband Jay in EastEnders
Tim Metcalfe betrays daughter Faye in Coronation Street shock
Coronation Street fans baffled by Daisy Midgeley stalking blunder
Writing online, one fan said: "I don't know how the law works in real life but I really hope that the police are somewhat held accountable after the attack happens."
They added: "They should do a storyline where Craig resigns out of guilt and the police are investigated for their lack of help."
Another fan penned: "Most definitely the police should be held accountable. Daisy has gone to them numerous times and they've told her to make a note of everything Justin does which Daisy has done and reported him for coming into the home uninvited and none of it seems to have made any difference."
Whilst a fellow watched added that the story was becoming increasingly difficult to watch, stating: "I'm finding the stalking storyline really hard to watch. What's making it worse is the police refusing to help poor Daisy.
"Justin is clearly deranged and needs locking up."
Before another slammed Weatherfield Police, saying: "Weatherfield Police do have some strange practices, they have launched police raids before merely on the word of an anonymous phone call but for sod all here."
Coronation Street airs Monday, Wednesday and Friday at 8pm on ITV1 and ITVX.
Source: Read Full Article