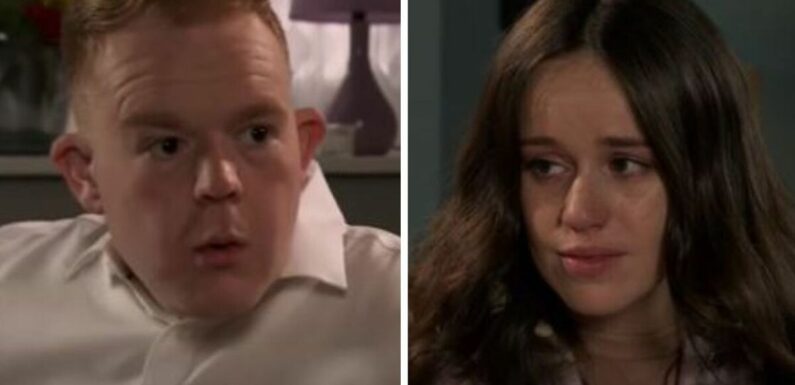 Corrie: Gary Windass confronted and arrested by Craig Tinker
Despite Craig Tinker (played by Colson Smith) and Faye Windass (Ellie Leach) facing some challenging times over the past few months in the ITV soap, the duo seem to be back on track. Although when Faye's ex-boyfriend Jackson (Joseph Evans) returned to Coronation Street with her estranged daughter Miley (Frankie-Jae Simmonds), things have gotten complicated for the Underworld worker.
After falling pregnant with Miley as a teenager, Faye wanted to give her daughter up for adoption, although young dad Jackson (Joseph Evans) chose to leave the cobbles with the baby.
Starting a new life in Canada, Faye has had no contact with Miley despite a brief run-in with her back in 2017.
Coronation Street viewers recently saw Faye have a change of heart and decide to be involved in Miley's life after her dad Tim Metcalfe (Joe Duttine) got in contact with Jackson following his UK return.
Despite Craig Tinker doing his best to bond with his girlfriend's daughter, it's clear to ITV soap fans Jackson's comeback has conflicted Faye's feelings.
In scenes set to air next week, Jackson and Miley go to the factory to pay Faye a surprise visit.
The Underworld worker is later touched when she learns Craig has got three tickets for Faye, Miley and Jackson to all see the Weatherfield Giants basketball game.
Insisting the family unit go and enjoy themselves at the sporting event, they all head for the tram stop with Miley, Faye and Jackson all sharing a lingering look.
Trying to impress Miley further, Craig presents the child with a basketball that's been signed by her favourite player.
Although unbeknownst to him, Faye has arranged to meet Jackson in town for a drink after his interview, with Craig believing she's off to meet a friend.
It looks as though Faye isn't the only person lying to their significant other as Beth Tinker (Lisa George) tells Kirk Sutherland (Andy Whyment) she can't make their meal as she's meeting some old friends for a drink.
As Faye meets up with Jackson at a hotel bar, she's stunned to see Beth arrive with Marco in tow as the duo share a horrified look after being caught on dates with their ex.
Don't miss…
Coronation Street's Justin star 'intimidated' by dark storyline[LATEST]
Janet Street-Porter rages over King Charles's coronation snub[LATEST]
Bruno Tonioli had to 'be restrained' while filming BGT[LATEST]
Later on, Faye heads back home with Jackson but is taken aback when she sees Craig baking cookies there with Tim and Miley.
She's then faced with a huge decision to make after Jackson asks if she'd move down south with him and Miley after managing to secure a new job.
However, her dilemmas don't stop there as she's later taken to Victoria Street Gardens by Beth to discover a small crowd has gathered.
Confused to see Miley, Jackson and Craig all there, she's stunned when her boyfriend gets down on one knee and declares his love.
Asking Faye to marry him, it looks as though the Underworld worker has to decide which man she wants to be with.
A theory by Express.co.uk suggests she decides to turn Craig and confesses she wants to stay close to Miley following all the years they've spent apart.
With her daughter and ex-boyfriend now back in her life, could Faye call it a day with Craig and move down south with Jackson to start a new family life together?
Coronation Street continues Mondays, Wednesdays and Fridays on ITVX and ITV1 at 8pm.
Source: Read Full Article