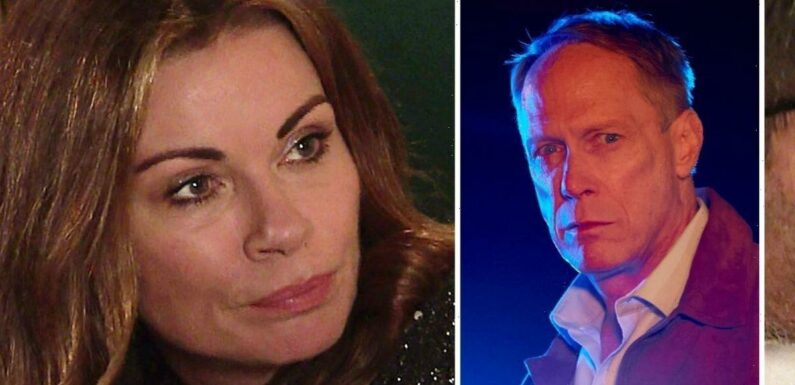 Coronation Street: Stephen lunges at Leo after being confronted
We use your sign-up to provide content in ways you've consented to and to improve our understanding of you. This may include adverts from us and 3rd parties based on our understanding. You can unsubscribe at any time. More info
Coronation Street has found itself in the clutches of yet another serial killer in the form of Stephen Reid (played by Todd Boyce). During his time in Weatherfield, he has killed Leo Thompkins (Joe Frost) and has recently set his eyes on Leo's father Teddy Thompkins (Grant Burgin). However, both Todd Boyce and Coronation Street boss Iain McLeod have already revealed Stephen's next potential victim.
Stephen has spent the past few months covering up the death of Leo Thompkins – but he's about to have another tragedy on his conscience.
Teddy begins to slowly uncover the truth about what happened to his son, forcing Leo to take drastic action.
In next week's episodes, Stephen is relieved Teddy hasn't regained his memories after his involvement in a nasty car accident at Christmas.
Teddy had rumbled Stephen's guilt over Leo's disappearance but was then hit by a van outside the pub.
READ MORE: Happy Valley star pays tribute to 'magnificent' Sarah Lancashire
When Teddy later regained consciousness in hospital, he didn't remember the exact details of what had happened.
With Teddy now oblivious to Stephen's secrets, they strike up a surprising bond while spending time at the Rovers Return together.
Later in the week, Teddy visits the café and another memory is triggered when he finds himself in a conversation with Billy Mayhew (Daniel Brocklebank).
Teddy heads outside and confronts Stephen, warning he now remembers everything and believes the shifty businessman has done something to Leo.
Although Stephen tries his best to deny it, Teddy reveals he remembers every word of their conversation before the accident.
Stephen convinces Teddy to join him inside the factory, promising they can talk in private, but as Teddy threatens to call the police, Stephen hits him over the head.
Teddy falls to the ground and is dead – Stephen has killed again.
Todd and Iain recently opened up about Stephen's next victim and revealed businesswomen and Underworld Queen, Carla (Alison King), could be in danger.
BBC News exodus sees presenters quit as merger sparks 'humiliation' [INSIGHT]
Prince Harry's claims of Camilla 'planting stories' shut down [LATEST]
Vorderman and This Morning presenters in tears of laughter at Harry [WATCH]
Todd explained to Express.co.uk and other press: "Carla is getting on his nerves. She's humiliated him on two occasions in front of his former colleagues when he was a big wig in Milan.
"They've sort of wandered into Underworld or into her business, I keep pretending that I am just doing some consultancy work, and she's coming out the back.
"She just she just spoils my cover and she goes 'get back to packing'. So she crushes me in front of them and so she's annoying me."
Iain McLeod also teased: "He sees his first step back on the ladder to the top of the International rank trade as getting the gig at Underworld.
"Then trying to topple the current Queen of the pile, Carla. So there's really good psychological warfare that begins between those two.
"And of course, it's all freighted by this knowledge on our part as viewers that we know he's killed, someone.
"So when Carla is in there, belittling him and making him make the tea and undercutting him in front of clients and all the rest of it, she's just kind of unwittingly poking this hornet's nest.
"If anyone predicts what Stephen does to Carla, I'll eat my hat. His plan is so out of the dark I'll be incredibly surprised if anyone sees it coming over the hill."
Coronation Street airs Monday, Wednesday and Friday from 8pm on ITV.
Source: Read Full Article