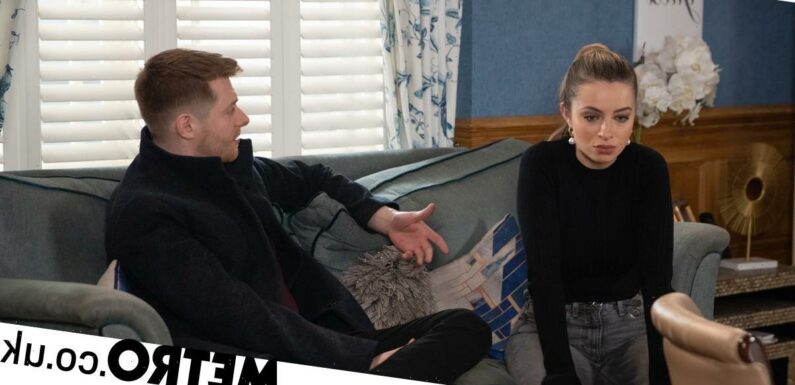 Daisy Midgeley (Charlotte Jordan) looks set to call off her wedding to Daniel Osbourne (Rob Mallard) in Coronation Street, following some crushing news from the police.
After receiving emotionally tell a court all about her ordeal at the hands of Justin Rutherford (Andrew Still), brave Daisy has been hit with an unjust setback.
Daisy has been gathering evidence for months, after being told by the police that there was nothing else they could do to stop sinister stalker Justin from tormenting her.
Eventually, after weeks of documenting every contact they had, Daisy was granted a hearing for a Stalking Protection Order.
She took the stand and explained exactly what Justin had been doing, and the effect it had had on her day to day life.
Things seemed to be going well, until Justin himself arrived, wearing a neckbrace.
As the stalker stood before the judge, he revealed that he had been hospitalised after being jumped by Daniel Osbourne (Rob Mallard), leaving Daisy horrified.
Viewers will know that, under the guidance of Peter Barlow (Chris Gascoyne), Daniel took it upon himself to warn Justin off, but things soon turned violent when Justin made some offensive remarks about their relationship.
As Daisy silently fumed, Daniel tried to make it clear that Justin was overplaying his injuries, as he had 'only' pushed him up against the wall and punched him.
It was then that the judge returned, and devastated Daisy with the news that she couldn't grant the protection order due to lack of evidence.
Heartbroken Daisy returned to the Street with some harsh words for Daniel, blaming him entirely for the case falling apart.
Devastated that he would so carelessly put her case in jeopardy, she informed him that she would be staying at the Rovers from now on, instead of returning home with him.
As if things weren't bad enough, she was then faced once again with terrifying Justin, who had chosen to completely ignore the judge's order to keep his distance.
Unwilling to stand for this any longer, Daisy made it clear to her delusional stalker that it was Daniel she loved and they were getting married, leaving Justin absolutely no chance of ever having a relationship with her, like he believed.
To view this video please enable JavaScript, and consider upgrading to a webbrowser thatsupports HTML5video
This gave Daniel a glimmer of hope, as he pointed out what Daisy had said during the confrontation.
However, heartache soon followed, as Daisy admitted she had only said those things to warn Justin off.
Aware that tensions were high, Daniel promised to leave her to it for the evening, and come back to sort things out in the morning.
Unfortunately, Daisy dashed his hopes entirely by telling him not to, explaining that she needed some space.
It was then that she dropped the biggest bombshell of all and told him that she wasn't sure she wanted to go ahead with the wedding anymore.
Will Daniel and Daisy be able to come back from this, or will she call off the wedding for good?
Source: Read Full Article