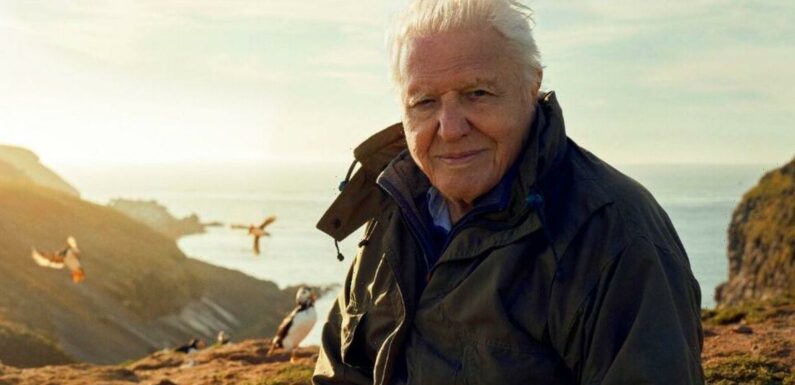 Watch the trailer for David Attenborough's Wild Isles
We use your sign-up to provide content in ways you've consented to and to improve our understanding of you. This may include adverts from us and 3rd parties based on our understanding. You can unsubscribe at any time. More info
His new BBC series, Sir David Attenborough's Wild Isles, will see the iconic presenter looking at nature closer to home. Filmed over the course of three years, the new five-part series will investigate how Britain and Ireland's woodland, grassland, freshwater, and ocean habitats support wildlife of all kinds. Speaking to Express.co.uk and other media, BBC producer Alastair Fothergill talked about David's "enthusiasm" for the first-of-its-kind series.
Alastair worked alongside the legendary Sir David and reflected on his response to the idea.
"I've worked with him obviously, in many big series since then," Alastair explained.
"What was amazing is when I first went to him and said, 'How about it?' he was just so enthusiastic.
"I mean, when you go to Richmond to talk to him about an idea there's a certain nervousness.
"Because he's a very decisive man. And he says yes or no quite quickly, and I didn't really know.
"I thought he would like it, but he was unbelievably enthusiastic.
"And he was enthusiastic because what he said to me was, 'Look, I love doing new and nobody's done this, and I've never done this.'"
David opened the series by explaining what attracted him to the new series.
He stated: "In my long life, I've been lucky enough to travel to almost every part of the globe and gaze upon some of its most beautiful and dramatic sights.
"But I can assure you that nature in these islands – if you know where to look, can be just as dramatic and spectacular as anything I've seen elsewhere.
"The British Isles are globally important for nature. In this series, we'll show you why that is so and celebrate the wonders of these islands that we call home."
Echoing David's description, Alastair went on to reveal the impressive filming process.
Don't miss…
The Apprentice fans slam 'woke BBC' for all-female final [REACTION]
The Chase viewers fume as Anne loses in 'nightmare' final [LATEST]
BBC producer praises David Attenborough over new seires [EXCLUSIVE]
"I was very fortunate to travel around the country directing the pieces to camera with Sir David Attenborough," he remarked.
"We filmed it in a variety of different locations, but the highlights for me were two visits to the island of Skomer, off west Wales.
"I first worked with David back in 1987 and it felt a great privilege to be in the field with him again."
He continued: "Drones have played a critical role in capturing the spectacular landscape of the British Isles.
"Thermal cameras have revealed foxes hunting rabbits at night and captured the extraordinary spectacle of thousands of starlings coming in to roost.
"Stabilised cameras have allowed us to film orca hunting seals at sea and wild horses battling for their females.
"Underwater, specially developed technology has brought the sea bed to life with time-lapse and captured in intimate detail the lives of plankton."
Sir David Attenborough's Wild Isles starts on Sunday at 7pm on BBC One.
Source: Read Full Article