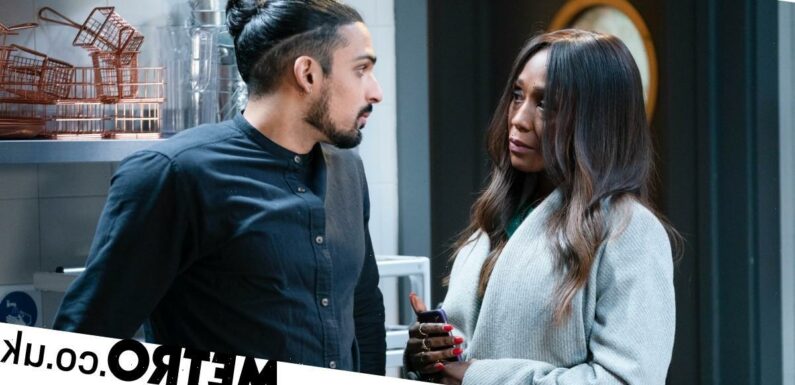 Denise Fox (Diane Parish) and Jack Branning's (Scott Maslen) relationship remains in a difficult place in EastEnders and as a result, Denise's head has started to be turned by Ravi Gulati (Aaron Thiara).
However, because Ravi is a bit of a troublemaker (oh yeah, and a murderer), he's also enjoying flirting with Denise's daughter, Chelsea (Zaraah Abrahams).
When Denise spotted them in the pub together during a recent episode, she confronted Ravi and wondered what his intentions were.
Getting the upper hand, Ravi pointed out that Denise is a married woman – and that he can see whoever he wants.
Next week, it's a difficult atmosphere at the Branning house as Jack discovers Ricky Jnr (Frankie Day) has offered to support Lily (Lillia Turner) in bringing up her baby.
Although Denise pleads caution, Jack demands a meeting with Stacey (Lacey Turner) and Martin (James Bye).
The next day, Denise is at her wits' end, but Patrick (Rudolph Walker) suggests she needs to find someone to talk some sense into Jack.
Feeling incredibly stressed, Denise is later pleased when a flirtatious Ravi approaches and offers her a shoulder to cry on.
When Denise gets back home, she finds a tearful Amy (Ellie Dadd) which makes her feel guilty about enjoying Ravi's attention.
But where is this going to lead?
Source: Read Full Article