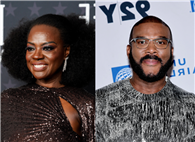 The death of Tyre Nichols, the 29-year-old Memphis man who was beaten to death by police officers earlier this month, made new headlines this week when body camera footage from the killing was released. The haunting footage, which features Nichols screaming for his mother as he explains that he was just trying to get home, sparked another debate about the United States' ongoing problem with police brutality and seeming inability to make progress on the issue.
As the tragic video made rounds on social media, Tyler Perry took to his personal Instagram account to mourn Nichols' death and implore his followers not to let the footage of the beating turn into entertainment.
"I said for my own peace of mind, for the sake of my own sanity, for my hope for what's left of the human race, I would not watch the awful murder of another Black man," Perry wrote. "This time I would refuse. I wanted to have the luxury of many people in the world who can just turn it off with ease. Many people can't imagine it happening to them because honestly, it never will. I was determined to see what that space felt like for once, I would cover my ears and not let in the outside. I knew it wasn't possible because when some people hate the outside it doesn't matter what's on the inside even if what's in there looks like them."
Perry continued: "So today I will cry, I will be depressed, I will curse, I will be outraged, I will want to burn some shit up, I will be in agony, I will let my heart break for his family, I will moan with his tenor harmony from my own experience that is every black man that's ever called for the safety of the arms of mamma, I will inaudibly scream."
Perry was far from the only prominent entertainment figure to weigh in on Nichols' death. Many of his Hollywood peers paid tribute to Nichols and shared Perry's sentiment about not letting the video be sensationalized. Keep reading for a roundup of celebrity reactions to Nichols' death.
https://www.instagram.com/p/Cn8gb45sj0y/
https://www.instagram.com/p/Cn8gb45sj0y/
A post shared by VIOLA DAVIS (@violadavis)
https://www.instagram.com/p/Cn9b-cYrilZ/
https://www.instagram.com/p/Cn9b-cYrilZ/
A post shared by Tyler Perry (@tylerperry)
Source: Read Full Article