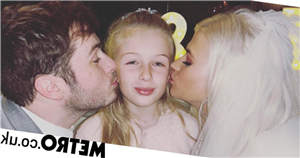 https://www.instagram.com/p/Co702raILlF/
EastEnders star Danielle Harold has given a shout-out to on-screen daughter Isabella Brown, ahead of Lola's tragic exit from the BBC soap.
Isabella has played Lola's daughter Lexi since 2019, and has worked closely with Danielle ever since.
Taking to Instagram, Danielle posted a sweet photo taken on set at EastEnders, featuring Danielle and Ben Mitchell actor Max Bowden kissing Isabella on the cheeks.
'I Couldn't of asked for a better mini me,' Danielle captioned her post, 'this little one makes me so proud everyday.'
The post was seen by Patsy Kensit, who has just finished filming a short stint as Lola's mum, Emma Harding.
Emma recently reappeared in Lola's life after being forced out when Lola was just three years old. After learning of Lola's illness, she was desperate to make up for lost time, and the two of them began to get to know each other again.
Patsy commented, 'love you both', followed by several love heart emojis.
Fans were also quick to praise the young actress, with one calling her, 'A star in the making'.
Another said, 'She's a great actor,' while a third commented, 'her acting has been so good.'
It is clear that Danielle and Isabella get on well, though unfortunately their time working together is set to come to an end at some point this year.
Lola was diagnosed with an incurable brain tumour last year, and has since been having treatment to prolong her life.
However, it has been revealed that Lola will die before Christmas Day 2023, in a flash-forward episode aired earlier this week.
In the scene which saw six characters stood over a mystery dead body in the Queen Vic, Lola's picture could be seen propping up the end of the bar.
Fans of EastEnders will know that this is a tribute paid to characters who have recently passed away, meaning that Lola will have died by the time that episode comes around.
We're not sure exactly how long it will be until Danielle's exit, but we're sure that Lola's final scenes will be emotional.
Source: Read Full Article