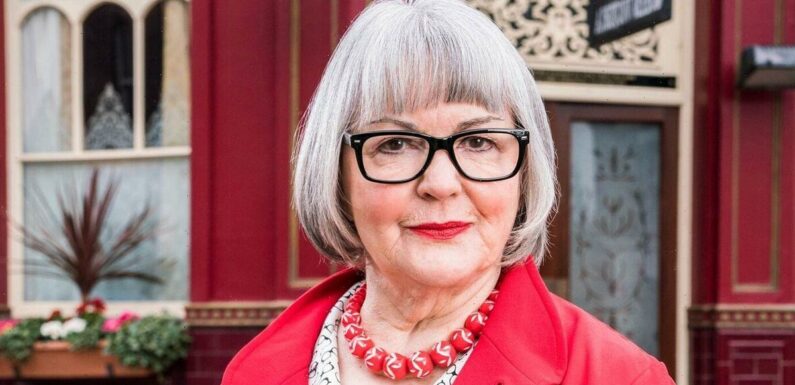 EastEnders airs special flashforward scene for Christmas 2023
We use your sign-up to provide content in ways you've consented to and to improve our understanding of you. This may include adverts from us and 3rd parties based on our understanding. You can unsubscribe at any time. More info
After less than two years, EastEnders favourite Vi Highway (played by Gwen Taylor) has waved goodbye to the BBC soap. In recent weeks, she has been at the heart of storylines which made it seem like she was settling into Albert Square for the long haul. But in Thursday's episode, she informed Patrick Truman (Rudolph Walker) that she was leaving.
Her character does get a happy ending as she moves to be with her eldest grandson, Stuart Highway (Ricky Champ) and his wife Rainie (Tanya Franks).
The couple is struggling with childcare and work and needs a nanny for their baby son Roland, and Vi is only too happy to take up the role.
Her news comes as a surprise to her youngest grandson Callum (Tony Clay), who had been spending a lot of time with her in recent weeks.
When his husband Ben Mitchell (Max Bowden) jokes that Stuart was always her favourite, Vi agrees and it is clear that her mind is made up.
In true EastEnders fashion, farewell drinks were arranged in the Vic and Vi took the opportunity to bare her soul.
Before saying her final goodbyes, she confessed to Callum that she wasn't keen on the idea of gay marriage when she first arrived.
However, she admitted that she now understood how important it was and was happy to see Callum and Ben back together and strong.
In a touching moment, she warned Ben to look after Callum, and as she went on her way, Ben remarked that she had just given them a "homophobic seal of approval".
Her closing scene was quite a U-turn for the character, who first appeared in the show in May 2021, just ahead of Callum and Ben's dramatic wedding week.
In her early days, she made quite an impact with her offensive remarks and didn't hold back about what she thought of the union.
Despite this, in the past 22 months, she has won over the locals and become a valued member of the community.
In particular, she has forged a strong friendship with Patrick and it looked as if they were being set up as a new double act on the show.
DON'T MISS:
The Repair Shop guest breaks down over treasured item [INSIGHT]
Love Island star claims she was 'set up to fail' on the show [OPINION]
EastEnders couple torn apart after Lola Pearce's health takes a tur… [SPOILER]
Earlier this week, they proved their comedic chops when they posed as the grandparents of Denzel Danes (Jaden Ladega).
The teen had written an essay about how his grandparents met – the problem being that he had lifted the story from elsewhere.
When it won an award and a newspaper wanted to interview the subjects of his story he panicked.
But Patrick and Vi came to his rescue and even kissed awkwardly for the journalist when requested.
However, Vi was being plagued with mysterious calls from an unknown number, leaving her stressed, which appeared to be setting up a new storyline for the character.
Instead, the calls turned out to be from Stuart who was desperate for some help with his son.
The BBC confirmed to the Radio Times that Thursday's episode does indeed feature Gwen Taylor's final scenes as Vi Highway.
EastEnders is on BBC One at 7.30pm Monday-Thursday.
Source: Read Full Article