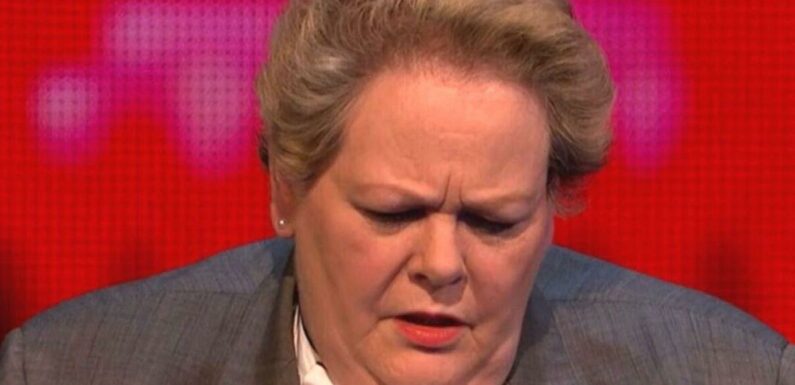 The Chase: Anne is beaten by contestants in final chase
We use your sign-up to provide content in ways you've consented to and to improve our understanding of you. This may include adverts from us and 3rd parties based on our understanding. You can unsubscribe at any time. More info
In a repeat episode of the ITV staple, Anne "The Governess" Hegerty took on four contestants as usual. The Chase fans have come to expect near-flawless performances from the Chasers, but every now and then the professional quizzers do slip up. Unfortunately for Anne, she faced a "nightmare" of a final round, with multiple incorrect answers and pushbacks which ultimately led to the contestants' victory. Viewers fumed that she was "off her game" as they questioned the shock result.
Straight-talking Anne took on music conductor Neil, senior PA Bev, advertising manager Bertie and civil servant Linda.
All four managed to make it through to the final chase without being caught by the Governess despite some close calls.
By the end of the first rounds, Neil, Bertie and Bev had won £5,000 each, while Linda earned £4,000.
In their second round, they collectively achieved 17 points, which host Bradley Walsh didn't seem too confident about.
"I've got to say, you will need pushbacks," he admitted adding: "It's tricky."
The team had £19,000 to win or lose in the last hurdle, but usually, most teams are still no match for the Chasers with 17 points.
As Anne reclaimed her seat for her final round, she commented: "It's a reasonable score, a reasonable target.
"And they actually sped up after starting slowly, and usually they do the opposite."
Just a few questions in, the team received their first pushback because Anne answered incorrectly.
"Which US astronaut wrote the book No Dream Is Too High?" Bradley asked later.
"Erm, Neil Armstrong?" Anne answered with uncertainty. However, she was once again wrong and the team was awarded another pushback after correctly answering: "Buzz Aldrin."
"The Long Island Sound separates New York from which other state?" Bradley continued.
Don't miss…
Coronation Street couple at risk of being torn apart after ex return [THEORY]
BBC 'happy to talk' with John Cleese over Fawlty Towers revival [LATEST]
Antiques Roadshow sees 'world treasure' from Ming Dynasty [VIDEO]
"New Jersey," The Chaser replied, but frustratingly for Anne, she was incorrect again.
The team responded: "Connecticut," which was the right answer.
Anne saw a few other disastrous questions and the team continued to push back her progress.
In the end, time ran out for Anne while she was two points behind the team.
Anne congratulated her opponents as they celebrated their win, but some viewers weren't so pleased.
Twitter user @Hydrogenhill1 raged: "Jesus Anne, that was rubbish tonight #thechase."
@Pantastic1761 penned: "Good win… Anne was off her game today. #TheChase."
@JTnicetouch remarked: "Anne's has had a nightmare final chase there. Neil laughing his way to the bank now! #TheChase."
"The Chaser is in a hot mess #thechase," @dwangeddy shared, but others praised Anne for her response.
@janwilkins59 stated: "I love how gracious @anne_hegerty is when she's beaten, no vinegar, just respectful. Love you Anne, my favourite! It just shows you don't have to be arrogant or have a catchphrase to be entertaining and intelligent! #TheChase."
@Sallyroberts echoed this, adding: "Good team today – deserved their win – and what I love about @anne_hegerty is that she is such a gracious loser #TheChase."
The Chase airs weekdays from 5pm on ITV.
Source: Read Full Article