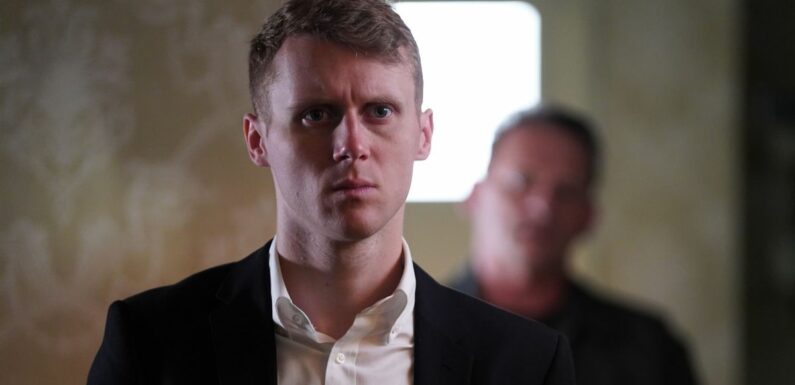 EastEnders' Jay Brown, played by Jamie Borthwick, was left devastated last year after learning Lola Pearce had an incurable brain tumour.
Jay and Lola (Danielle Harold), reunited just weeks before the young mum received her diagnosis and tied the knot in an emotional service back in January.
After coming to terms with the fact his wife's illness is terminal, Jay became determined to help Lola live out her last months to the full.
READ MORE: Eagle-eyed Eastenders fans point out major Whitney blunder as she mourns baby loss
The couple were dealt another blow on Wednesday (March 15) after doctors informed Lola of their fears that her chemo is no longer working.
As Lola's death looms, Daily Star has rounded up the possible outcomes involving Jay.
Lola and Jay split
Despite the newlyweds being besotted with each other, there is every chance they could end up splitting – especially if Lola's mum Emma has anything to do with it.
The couple could be set to be torn apart as the newcomer continues meddling in her daughter's life.
Speaking on The One Show on Wednesday (March 15), actress Patsy Kensit, 55, revealed Emma's sinister plan to "drive a wedge" between the pair.
"We're finding out that Emma is quite controlling and a bit of a trouble maker. She wants to come between Lola and Jay and cause trouble," she said.
The newly-engaged star continued: "She sees something that she doesn't quite like looking at and she makes it bigger than it is and she drives a wedge between them and it all unfolds."
"When we saw her before she was quite broken from her past and finding her daughter again but now she's back she's feisty and I've got to play some great scenes," Patsy added.
Custody battle
EastEnders fans have speculated that once Lola dies, her loved ones will become embroiled in a bitter custody battle over Lexi (Isabella Brown).
Emma has been attempting to get close with Lexi – the daughter of Lola and Ben Mitchell (Max Bowden) – since she arrived and even slipped her phone number to the youngster without telling anyone.
Convinced Emma won't let Lexi go without a fight, fans shared their predictions on social media.
"I can see Emma being involved in Lexi's custody battle alongside Ben, Billy and Jay. Bare in mind as well Billy has applied for custody of Lexi before," theorised one viewer.
Another fan wrote: "I think Emma will either kidnap Lexi or apply for custody herself. I think Emma was abused – but everything else is shady. The way she spoke to Billy tonight shows she has a dark side."
"Emma is a snake and I can see a custody battle for Lexi in the future when Lola is gone. #EastEnders," added a third.
Echoing this theory, someone else speculated: "I smell a custody battle between Emma, Ben and Jay over Lexi after Lola dies #EastEnders."
Mental breakdown
It's unclear how Jay will cope once Lola has passed away, but many fans have speculated that he could have a mental breakdown while grieving.
Sharing their thoughts online, one fan penned: "After Lola dies (and I do mean this with every fibre of my being) I'm gonna need a scene where Jay, mad with grief, completely flips and turfs ALL that lot out of HIS house for all the times they threw him out of for no reason".
"I think when Jay does eventually breakdown after Lola's death, Linda could well one of the people who realises he's spiralling, I suspect Ben may struggle to help initially as he's so used to Jay being the stable one," added a second fan.
Supporting this theory, another shared: "Furthermore Jay could have a MH breakdown – ( Lola is his everything) so he'll be effected by her loss. Ben's trauma from his R*** hasn't left him not deep down. So there are many layers to this story to consider after Lola dies.
While a fourth echoed: "I stg if I don't get jay having an all out mental breakdown and burning things down and having to be hospitalized after Lola dies? I'm suing y'all".
Suicide plot
Diving into a darker end to an already tragic story, one fan suggested that Lola and Jay could become part of a suicide plot which could see them take their own lives together.
Believing Jay will be unable to live without his wife, someone wrote on social media: "What if lola and jay agree to take their own lives and they do it together but lola doesnt go through with it so shes left on her own without jay until the end?"
While many fans disagreed with the incredibly dark idea, another agreed as they responded: "It's something evil they [EastEnders] would do isn't it".
For emotional support you can call the Samaritans 24-hour helpline on 116 123, email [email protected], visit a Samaritans branch in person or go to the Samaritans website.
For more of the latest showbiz news from Daily Star, make sure you sign up to one of our newsletters here.
READ MORE:
EastEnders fans brand newbie Emma 'master villain' as she 'rivals Janine'

Soap husband and wife murders – EastEnders bludgeon to Emmerdale bridge death

EastEnders Slater girls' hottest snaps – topless appearance, bikinis and sheer top
Source: Read Full Article