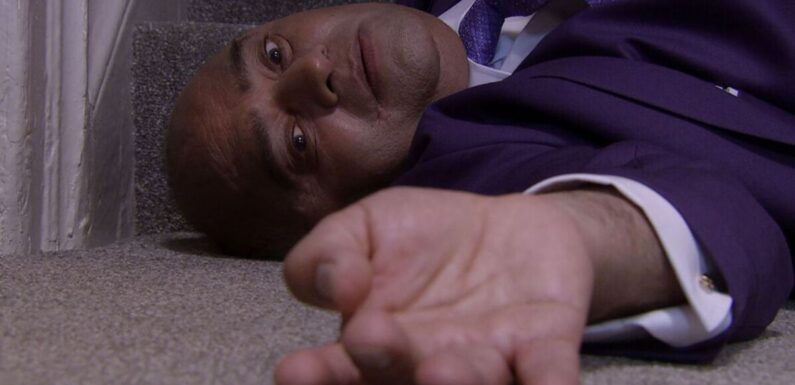 Emmerdale's Rishi dead at bottom of the stairs
It is unclear whether Rishi Sharma (played by Bhasker Patel) died of natural causes or whether he was pushed to his death, but Emmerdale fans have been coming up with their own theories about what really happened.
During Thursday night's hour-long instalment, Rishi and Jai Sharma (Chris Bisson) clashed once again before his wedding to Laurel Thomas (Charlotte Bellamy).
Jai was left feeling angry after Rishi finally came clean about who his real father was.
Rishi explained Jai's mum had an affair with his brother, which led to an unexpected pregnancy, meaning Jai's cousin Suni (Brahmdeo Shannon Ramana) was actually his half-brother.
However, after missing out on Jai's wedding, at the end of the episode, viewers saw Rishi's lifeless body lying at the bottom of the stairs.
READ MORE Emmerdale to unveil true identity of Jai Sharma's father tonight[LATEST]
Fans quickly took to Twitter in droves to share their thoughts and theories about what happened to Rishi, and many seem to think he was pushed.
One fan believes his own son Jai was the culprit, while another said Vicar Charles Anderson (Kevin Mathurin) could have a murderous streak.
@ToddGM246 theorised: "Would be a good plot twist if Charles becomes a murderous priest. #Emmerdale."
@deanobeanos shared: "Bet Jai pushed Rishi down the stairs #Emmerdale."
Don't miss…
Emmerdale couple take break from village months after arriving on ITV soap[REACTION]
Emmerdale memorial crashed by return of village villain[SPOILERS]
Emmerdale fans 'work out' Rishi Sharma's lie after 'imposter' arrives in village[LATEST]
We use your sign-up to provide content in ways you've consented to and to improve our understanding of you. This may include adverts from us and 3rd parties based on our understanding. You can unsubscribe at any time. More info
While @Emmerdale2dae added: "I have a few thoughts now following Rishi's death…Will Tom and Belle move out of Rishi's home? Who will take ownership? What about Priya and Nickhil too? Surely they have to come back…Jai and Georgia will feel VERY guilty." (sic)
Throwing another theory into the mix, @unsworth1live tweeted: "#Emmerdale I reckon Rishi had an aneurysm that's undiagnosed then popped at the top of stairs."
@LnSHarris went on: "So gutted that Rishi went out like this. I honestly hope that this doesn't push Jai to relapse #Emmerdale."
"Watch Jai go back to drugs if Rishi dies., such a typical story. Victor will have some play in it when he overheard Rishi talking yesterday about Jai's old habit he looked intrigued! #Emmerdale," @Dbella91 predicted.
Bhasker, who has played Rishi for 12 years, said about his exit: "Thanks for watching Rishi over the years. I feel privileged to have been part of the show for 12 years.
"I have loved it and will miss it enormously, especially my friends and working in the beautiful village of Emmerdale.
"Thank you for watching. Stay safe Bhasker."
Emmerdale airs weekdays at 7.30pm on ITV.
Source: Read Full Article