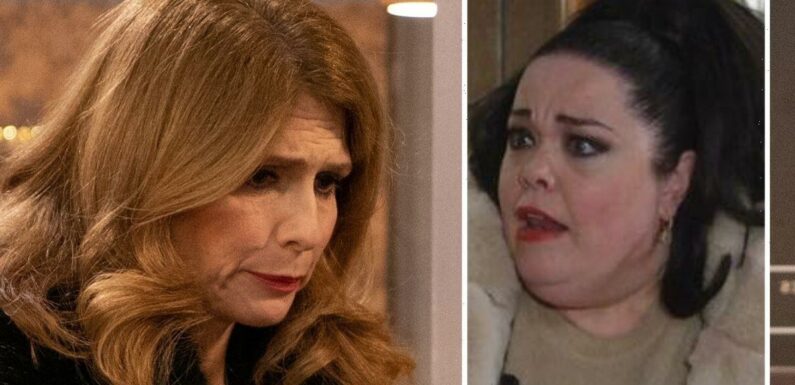 Emmerdale: Charity tells Mack to leave
We use your sign-up to provide content in ways you've consented to and to improve our understanding of you. This may include adverts from us and 3rd parties based on our understanding. You can unsubscribe at any time. More info
Over the recent weeks, Bernice Blackstock (played by Samantha Giles) has been struggling with the symptoms of menopause. She has been suffering from the usual symptoms but also snapping at everyone, including fits of unexplained rage. Over the years in Emmerdale Bernice has worked in her beloved salon, however, she is set to get the shock of her life when she is booted out and left not knowing what to do with herself.
In upcoming scenes, Bernice is furious when Mandy (Lisa Riley) tells her she is going to have to make her redundant from the salon.
Show boss Jane Hudson recently spoke out on the topical storyline and explained to Metro.co.uk: "We like to do stories that resonate with a lot of our viewers.
"Not just females, it's important that men know about menopause as well as women. Sam Giles does it brilliantly as she's managed to put humour into something that's really quite hard and sad and difficult.
"So we really get to enjoy that story while we try and understand what this woman is going through as she faces menopause.
"Bernice does not want to admit to it at all, she'd rather have some terrific illness than be told she's got menopause."
Bernice has been desperate to prove that she would be the perfect manager in their absence, desperate to call something her own.
Over the festive period, Bernice attempted to keep her mind busy from any bad thoughts she was having about her menopause.
As a result, she decided to form a support group, whilst Bob Hope (Tony Audenshaw) planned to DJ a New Year's Eve party in the Dales.
Bernice's actions will have an impact on another resident and cause more unneeded stress for her.
Elsewhere, Nicola still has it in for Naomi Anderson (Karene Peter) and acts out in an attempt to make herself feel better.
When April Windsor (Amelia Flanagan) struggles with her crush on Arthur, Naomi came to her aid with a pep talk.
But her father, Marlon Dingle (Mark Charnock) and Rhona Goskirk (Zoe Henry) are growing tired of her attitude.
Later on, Rhona caught April with bright nail varnish and linked her behaviour to Naomi's influence.
After getting wind of Rhona's opinion of her, Naomi confronted the village vet and an argument escalated.
Nicola took the opportunity for her to get payback after her attack and began to drip poison about Naomi's influence on April to Rhona.
Will Rhona listen to her?
Emmerdale airs weekdays from 7:30pm on ITV.
Source: Read Full Article