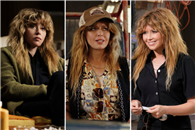 Peacock's weekly murder mystery from creator Rian Johnson is just over halfway into its debut season — enough time for the audience to get comfortable with its howcatchem format, episodic cast overhauls, and Charlie's (Natasha Lyonne) innate ability to know when people are lying. It's also enough episodes for us to pick clear favorites and rank the existing entries, while still looking forward to the final four episodes that lie ahead.
So who's winning "Poker Face?" Which crime stole the show, which killers really killed, and when is Benjamin Bratt coming back? We don't have all the answers, but we definitely won't lie.
Here's every episode of "Poker Face" (so far), ranked.
6. Episode 2: "The Night Shift"
This is the first episode where "Poker Face" truly shows its hand, with promising structure if not the most compelling murder of the season. Sandwich artist and TikTok sensation Damian (Brandon Michael Hall) buys a winning lottery ticket from Sara (Megan Suri), whom Jed (Colton Ryan) is obsessed with from afar. Jealous of their closeness, Jed throws Damian off a building and then bludgeons him to death, leaving the body to frame Marge (Hong Chau). Marge was a weirdo, but Charlie doesn't buy it — and Jed is suspicious enough from the outset the she knows where to sniff. While Jed's busy pretending he won the lottery and ignoring Damian's warnings to not creep out Sara, Charlie quickly solves the sloppy crime and confirms her suspicions: a jealous rage, a crime of passion, and way more than $25,000 worth of trouble.
MVP: Hong Chau's section is mostly a departure from the rest of the episode and its central crime, but she steals the show without breaking a sweat.
5. Episode 5: "Time of the Monkey"
Right after subverting expectations of Charlie's position in Episode 4, "Poker Face" tricks the audience again by not telling the full story of Irene (Judith Light) and Joyce's (S. Epatha Merkerson) mission to murder former cult leader and lover Gabriel (Reed Birney). Act 1 establishes Irene and Joyce's friendship and the murder; Act 2 brings in Charlie so she can hear their backstory, but it also fills in plot holes without her as the women reconnect with Gabriel before his death.
It's the first time Charlie feels personally betrayed by the murders and by finding out that Joyce and Irene weren't who she thought. She admired their wit and tenacity, but the same can't be said of their plan to attack a Model U.N. meeting with explosives.
MVP: Joyce and Irene are a true treat as villains, from the sassy boomer charm that wins Charlie over to ruthlessly trying to beat her up in the final scenes.
4. Episode 6: "Exit Stage Death"
Tim Meadows and Ellen Barkin in "Poker Face"
Sara Shatz/Peacock
Acting rivals Kathleen (Ellen Barkin) and Michael (Tim Meadows) agree to do a play together, an endeavor that seems to have both of them at wit's end before it even starts in earnest. Their true motive doesn't reveal itself until after Michael's wife Ava (Jameela Jamil) fatally falls through the a trap door in stage floor; Michael and Kathleen have actually been having an affair and killed her to be together. The layers of performance to their enmity and crime would put any actor through the ringer, but Barkin and Meadows excel as actors playing actors who act some more to get away with murder.
MVP: Barkin makes a meal of Kathleen's unhinged narcissism, whether she's playing Michael's antagonist, costar, or impassioned accomplice — and pairs wonderfully with Lyonne's Charlie as they embody two wildly different individuals.
3. Episode 4: "Rest in Metal"
By Episode 4, one of the treats becomes finding out where and how Charlie became part of the new setting, and "Rest in Metal" has one of the best reveals of her role in what happened. Like "The Stall," it makes good use of a seemingly inconsequential character (Emily Yoshida's "Murder Girl" podcast host) to nab the killers, as well as some audio and electrical geekery. "Rest in Metal" emphasizes the egomania of a murderer; while Ruby (Chloë Sevigny) and her bandmates are busy looking for a new hit and plotting against Gavin (Nicholas Cirillo), they pay minimal attention to Charlie's existence — let alone her powers of observation and knack for calling out bullshit.
MVP: Charlie herself, for being the only person who likes or respects Gavin and makes sure he finds justice.
2. Episode 1: "Dead Man's Hand"
"Poker Face" sets the stakes high in its opening hour, with a mysterious discovery, innocent victim, and scene-stealing performances from Adrian Brody and Benjamin Bratt. It's nine whole minutes before the audience even meets Charlie, with no hints at who she is or how she'll figure into the established events — and boy, does she. Between her friendship with Natalie (Dascha Polanco), witnessing key moments at the casino, and that ultra-convenient built-in lie detector, Charlie Cale is a hoot of a protagonist and a hell of an enemy for Cliff (Bratt), Sterling, and Sterling's father (Ron Perlman). With powerful and angry people on her tail, Charlie ditches her phone and gets in her car, putting as much space as she can between herself and Frost Casino. The chase is on, and Natalie's murder still hasn't been fully solved — but many more await on the open road.
MVP: Adrian Brody as Sterling Frost, Jr., the petulant but intimidating casino boss who now holds Charlie's life in the balance.
1. Episode 3: "The Stall"
Lil Rel Howery in "Poker Face" Episode 3
Peacock
Everything seems fine and dandy at Boyle's BBQ — run by brothers Taffy (Lil Rel Howery) and George (Larry Brown) — until George has a crisis of confidence and refuses to cook meat any longer. Wife Mandy (Danielle McDonald) and Taffy don't take kindly to this epiphany and take him out of the picture, but Charlie smells something off when they decide to keep the restaurant open in his honor. "The Stall" builds on the charming eccentricity of Episode 2 (fascist dog! Not-fascist radio host!) while also adding poetic significance to the crime and its resolution (they literally barbecued George! Pecan!!). It also finds new and stirring ways to integrate Charlie's gift, this time with her recalling George's last words and that he believed he would live to act on them. The episode weaves together all that and more (Taffy and Mandy!) all while subtly encouraging viewers to watch "Okja."
MVP: Shane Paul McGhie as Austin, the uber-talented radio jockey.
"Poker Face" is now streaming on Peacock.
Source: Read Full Article